Using BrightGauge Through COVID-19
Abacus Group is a global IT services firm with an enterprise technology platform designed to meet the unique needs of the financial services industry. It focuses on providing a cloud-hosted IT service, application hosting and voice solutions to alternative investment firms, including hedge funds, private equity firms, asset managers and family offices.
The Abacus Cloud platform allows investment managers to source all technology needs as-a-service, with Abacus managing the entire IT stack for investment clients as well as providing both on-site and remote IT support for all users. Its services are ideal for firms that anticipate growing and adding new users, as all Abacus solutions are designed to scale and be flexible.
Within the last couple of years, Abacus has brought BrightGauge into its stack of service-delivery tools, and we chatted with Angela Butler, Director of Client Support Operations, to understand the important role BrightGauge has played.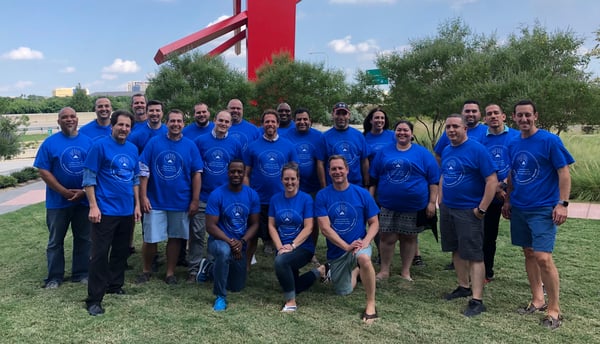 How Abacus got its start
Abacus was founded in 2008 in San Francisco by industry veterans who came from backgrounds in both IT services and the financial industry. The founders saw an opportunity to shape the financial industry's relationship with technology, as there wasn't yet a specialized IT service for hedge funds that was cloud-first.
Since hedge funds must be registered (for example, in the US with the SEC and in the UK with the FCA) and be ready for extensive investor due diligence, they require very transparent and diligent IT services. So that's where Abacus entered the market.
Over the years, Abacus has grown to providing services to over 600 investment firms with over 4500 users. The company currently has 180 employees based out of 8 offices across the US and the UK, including global headquarters in New York City and EMEA headquarters in London.
Most recently, in 2019, Abacus launched abacusFlex-Public Cloud, which provides the option for all of a client's IT infrastructure to be hosted in the Microsoft public cloud but surrounded by Abacus' managed cybersecurity, compliance solutions, and premium service.
A laser-focus on alternative investment firms and their unique needs is what differentiates Abacus from other managed service providers. By managing the entire IT stack for its clients, Abacus helps financial firms focus on investment performance. In addition to Abacus' 24/7 support and best-of-breed tech stack, it also provides clients with the tools they need to adhere to all regulatory and compliance standards as well as investors' due diligence expectations.
Angela explained, "What's most important to our clients are premium service, industry expertise, superior technology, cybersecurity, transparency, and reliability. Right now, due to the pandemic, our clients are keen on being able to seamlessly have employees work from home with the same level of cybersecurity as if they were in the office. Our technology solutions are already built for this."
This includes having BrightGauge in the mix.
Becoming a BrightGauge partner
A few years ago, Angela was attending an IT Nation event, where she spent a good amount of time in the solutions pavilion watching BrightGauge demos. She was in the market for a solution that would handle several business issues and a conversation with the BrightGauge team solidified her decision to pitch it to stakeholders. She says it was an easy sell.
BrightGauge has given Abacus the visibility to track KPIs across teams located in different parts of the world for all management levels. It allows Abacus to make strategic business decisions in many different aspects of the company.
Angela is particularly fond of how easy it is to configure dashboards and reports in BrightGauge.
"It is one of my favorite tools because it's intuitive to use. Table joins are done for you instead of needing to create your own, you can easily display two different data sources in one place, you can easily add custom fields to datasets, and it's extremely easy to create recurring reports."
When it comes to managers, BrightGauge gives visibility into a team's performance and is an easy way to manage specific objectives and goals. For executives, it's a great way to get a high-level view and a pulse on how the company is doing as a whole.
Working through COVID-19
The Abacus team prides itself on communication and its clients know to expect complete transparency at all times. This was especially important as Abacus was helping all clients transition to work from home at the onset of the COVID-19 pandemic across the US and in the UK.
"As we saw what was happening in Asia, our executive team formed a pandemic committee that immediately put together a plan for how we would handle a situation where all employees would have to work from home and at the same time service tickets would largely escalate if all clients also started working from home," says Angela.
Due to that planning, Abacus was ready to react and make sure clients were ready to go to be able to seamlessly work from home without any issues. Given that clients were trading in volatile financial markets, the need to be seamless and secure was of the highest priority. As a result of its efforts, Abacus continues to be commended by clients on how well the crisis was handled. And BrightGauge played a key role in keeping operations running smoothly.
For the health and safety of its employees, before stay-at-home orders were put in place, Abacus required all clients requesting onsite assistance to complete a COVID-19 health and safety questionnaire. Receipt of those questionnaires was tracked through BrightGauge.
"When our workforce and our clients' workforce transitioned to working from home during a very finite time frame, we used BrightGauge to track the status of each of our clients' offices. We created new ticket statuses and workflows to support the new ticket flow, which we monitor through BrightGauge to ensure tickets are handled in a timely fashion. We're also able to track the types and quantities of tickets handled by our teams during this pandemic, plus the amount of tickets escalated to a senior level team."
Without BrightGauge, the ability to support clients for the duration of this pandemic would not have been as seamless or efficient. Abacus normally sees more than 130,000 tickets annually, so this is no small feat.
To Abacus Group: we're proud to support you and your clients throughout COVID-19 and beyond.
Most-used datasources: ConnectWise Manage, Salesforce, and soon SmileBack
Top 5 KPIs:
Kill Rate Trend (Created Tickets vs Resolved Tickets)
Ticket source (calls, emails) ratio and volume per hour
Client profitability (revenue per hour)
Technician utilization
Average time spent on top ticket types (hours/# of tickets with that type)