How Network People Built Legitimacy Through BrightGauge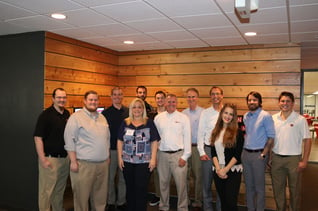 In 1996, wife-and-husband duo Kelly and Nate Freeman realized their vision of opening up an IT shop in Clearwater, Florida. It started as a small MSP but really began picking up around 2002.
Today, Network People is an MSP+, with 15 employees and a great internal system, providing IT and security services to close to 300 clients.
A BrightGauge partner for several years now, the tool is a big part of their daily operations. We spoke to Joe Somerville, Integrator + Director of Operational Development to learn more.
How Network People got its start
Network People has always had a mission to deliver the best tech services in the Tampa Bay area, and one of the ways they've done that is by spending a lot of time with their clients.
Maintaining a strict customer-focused attitude is something they believe has set them apart from many other MSPs in the industry.
"It's important to us to go above and beyond for our clients, regardless of our agreement level," says Joe. "That way, mom and pop shops are being treated the exact same way as our larger corporate companies."
This level of care has allowed Network People to grow and build a reputation as a trusted partner for SMBs in the municipalities, health practices, law, and architectural sectors, amongst others.
When it comes to taking on new clients, the Network People team gravitate towards companies that are community-driven, have a good culture, and are operating calmly and in an organized manner.
Making sure the client relationship is one that jives has allowed Network People to really focus on that personal touch and spend more time with clients.
"Doing the right thing is a top priority for us," says Joe. "We're spending time, effort, and money on constantly developing, getting things built to a level we're happy with, and figuring out where we can consistently improve for the benefit of our clients."
As an example, Joe and team discovered that they had clients who weren't monitoring their backups correctly, consequently putting their whole company and sites at risk. Undoubtedly, an issue like this requires the right tools in place to properly take action and be proactive. Which is exactly where a tool like BrightGauge comes into play.
Becoming a BrightGauge partner
After attending an HTG meeting (now known as IT Nation Evolve), the owner and president of Network People brought BrightGauge into their stack of tools, seeing value in being able to get to data quickly and automate processes.
Since then, BrightGauge has been a key player in daily operations at Network People.
"BrightGauge is the best way to see data," says Joe. "It's allowed us to do what we want in an efficient way with our clients and lets us put data in front of our clients when we're talking to them."
Joe estimates that he and his team use BrightGauge dashboards for 3 hours a day, every single day.
"I can't even imagine running our business without this," says Joe.
In addition to using the tool, Joe says that BrightGauge support is some of the best he's experienced, furthering the value of the tool even more.
What BrightGauge has helped the Network People team accomplish
When it comes to monitoring client's backups, BrightGauge helps in intelligence gathering and due diligence, which has aided in their client retention efforts.
More than that, BrightGauge dashboards are the primary way the Network People team share data with clients.
"We deliver VCIO meetings through BrightGauge dashboards," says Joe. "And part of our onboarding process is building out a client dashboard specific to that client."
We love this part of Network People's onboarding and the tips they gave for bringing data to clients:
- They assign their clients as a viewer to their own client dashboard
- They use a templated dashboard and add a filter for that client, so that the whole process takes 3-4 minutes to set up
- During onboarding, they hold a 10-15 minute training, taking clients through their gauges, what the data should mean to them, what they should keep an eye on, and in what instances they should reach out to Network People for more support/clarity
Genius!
"Anytime we get clients to understand what we do and why we do it, we strengthen the partnership and build a lot of legitimacy into what we do on a monthly basis," says Joe. "We're protecting them; we're sharing numbers open and honestly; and we're only able to do this because of custom datasets in BrightGauge."
As security issues become more serious and our industry becomes more vulnerable, Joe is proud that Network People still has a client-first focus and that they are spending time figuring out how to provide enough service to keep their clients secure, no matter their budget.
"We are always taking care to work with a client's environment so we fit into them instead of them fitting into us," says Joe. "It may not be the most profitable mentality, but it is so important to us."
That's definitely something to admire. We're proud to have you as a partner, Network People!
Most-used datasources: ConnectWise Manage and Automate, and Liongard Roar (Joe says he is most excited about building this out)
Top KPIs: Tickets Per Engineer; SLA Per Ticket; Billable Time Goals; CSAT; Department Hourly Goals
Notable Dashboards: Centralized Services; Service Manager Review; Client Board; Finance Board; CSAT Board; Inventory Board