BACK
Best Practices

|
Read
How to Generate Powerful Autotask Reports
Susan Perez May 28, 2019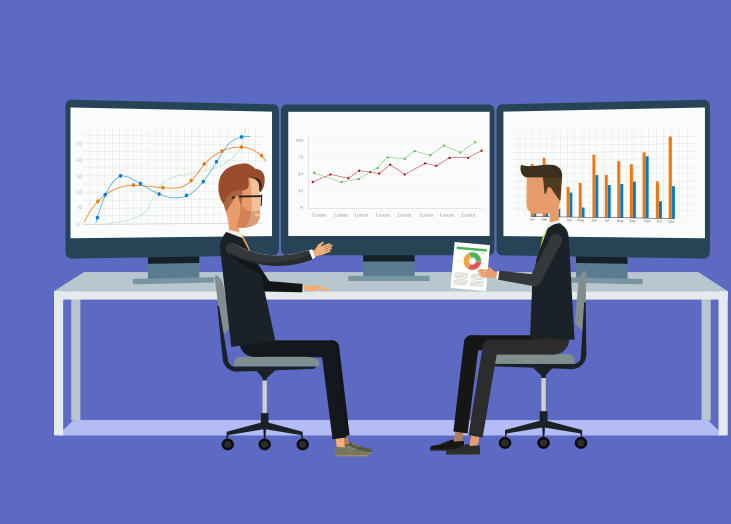 You know what clients love? Partners who are trustworthy and transparent about what they're doing. Know what's even better? When that foundation is set naturally, without clients having to ask.
It's likely a priority of yours to foster a really strong sense of trust between you and your clients, which is great. Trust breeds long-term relationships and repeat business, putting you on a path towards success.
And a really simple, yet powerful way to build that trust is to get in the habit of consistently sending out client reports.
It's not as tedious or time-consuming as you may think, and the payoff is substantial.
Determining what to report on
Let's say you're using Autotask Professional Services Automation to track your support tickets, SLA data, engineers' hours, and more. That's some pretty important data!
How do you show your clients what you do with that data to keep them running efficiently? This is where Autotask reports come in.
Consistent reports give you the opportunity to visually display your value to your client and reinforce the reasons why they are paying you. Autotask reports also show that you're proactive and committed to helping them run their business - a.k.a., you're a partner, not just a service provider.
However, while we are clearly in support of showing off your data management skills, we should caution against dumping too much Autotask data (or any data) on your clients. The key is to choose the right data.
There are a few questions to ask yourself whenever you're choosing the Autotask data to report on:
How does this fit into my client's SLA? Referring to the SLA you and your client agreed upon is an excellent way to refresh yourself on what matters to them. For example, if the SLA specifies a satisfactory support ticket response time, you're going to want to include your Autotask Average Time to First Response on each report you send.
Does this impact my client's bottom line? Only include the Autotask data that'll have the most impact to each specific client. They may not need to know nitty-gritty details like Hours Today by Engineer, but would probably appreciate an update on Projects Opened vs. Closed.
Am I spending significant time on this? If it's not something that matters a whole lot to you, it's not likely to matter a whole lot to your client. Remember, this is an opportunity to report on your value, so show off Autotask data that you spend a worthwhile amount of time on.
Once you've got your data ironed out, you can start pulling your Autotask reports together.
A little help goes a long way
You're really busy. You don't have 8-10 hours a week to spend on compiling reports. And no one says you have to.
Using a business intelligence tool like BrightGauge can help you get your Autotask reports out with very little work on your end.
First of all, BrightGauge takes all your Autotask data (plus data from your RMM, BDR, security, finance tool, etc) and puts it up on one seamless dashboard, so you can keep an eye on the metrics that matter to you in real-time.
Then, when it comes to building reports, the whole process is automated and can be set up in just a few clicks.
When you connect BrightGauge + Autotask, your account will come pre-loaded with 8 report templates to get you started, including Daily Member Scorecard, Weekly Project Work Summary, Service Calls, Sales Daily Wrap Up, and more.
You can open one of these templates, personalize it with a client logo, choose your client recipient(s), and then schedule the report to automatically be sent out at the frequency you choose (like every Monday at 8 a.m.).
If you'd rather build a report from scratch, it's just a matter of dragging and dropping the data you're already tracking into the report template, and then personalizing it and scheduling it out.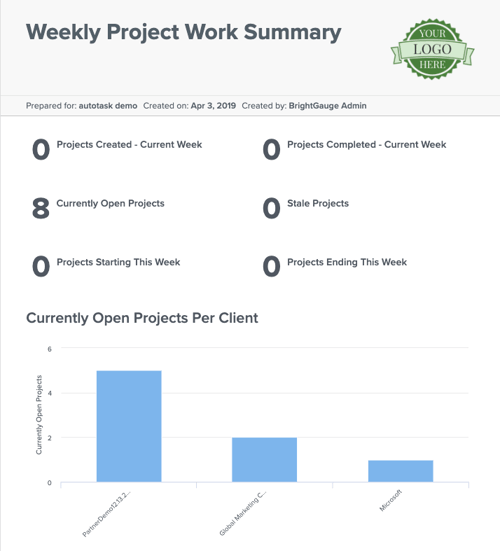 It's honestly that simple. And the reports look clean, professional, and digestible.
Once you get your Autotask reports scheduled, you can rest easy knowing they're automatically being delivered to your client's inbox every week/month/quarter and that your client's can rely on you and trust you to receive this information. High-five!
By the way, in addition to 8 report templates, you'll get almost 200 default KPIs and 9 pre-built dashboards to get you started. Some KPIs include:
Amount on Invoices 90 Days Past Due
Average Time to First Response
Average Time to Resolution
Breached SLA Summary Per Resource
Customer Satisfaction This Month Leaderboard
Opened vs Closed Tickets
Project Phases - Current Month
Tickets Assigned by Tech
Tickets Completed This Week Leaderboard
Tickets by Issue Type
Watch this video to learn more about setting up and sending out reports.
If you'd like to add Autotask to your stack of BrightGauge datasources, please contact us today.
Free MSA Template
Whether you're planning your first managed services agreement, or you're ready to overhaul your existing version, we've got you covered!