BACK
Best Practices

|
Read
10 Things You Need In Your Client Reports Right Now
Susan Perez October 13, 2021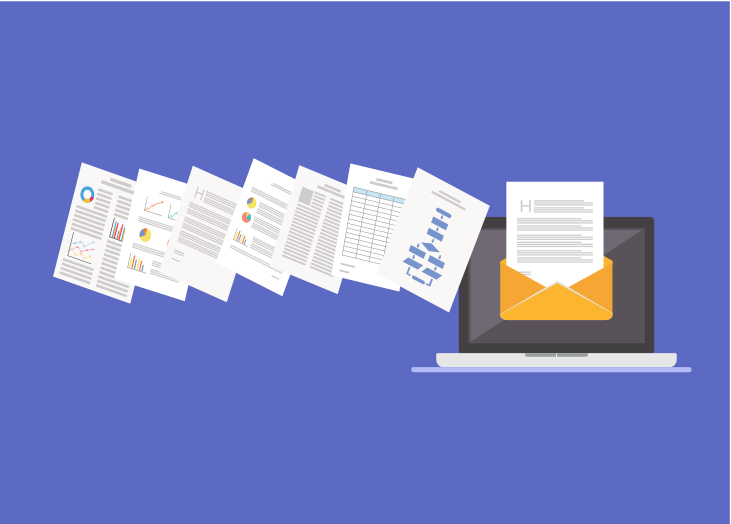 What is your strategy when it comes to client reporting? Are you sending client reports on a regular basis? How are you determining what data to include in your reports? How are you generating your reports?

Not carving out time to formalize this process or put enough thought into it can lead to a missed opportunity. Client reports are a powerful tool when it comes to customer retention and maintaining solid relationships.

With a little organization, client reporting is a practice you can implement fairly quickly and easily. Let's explore.

What is a client report?

Simply put, a client report is a document you send to your clients on a regular basis, showing them important metrics pertaining to their organization or environment.

For example, if you're a managed service provider (MSP) who handles your client's endpoints, you may report on the status of their networks and devices and what actions you took in a given time period to mitigate any security threats they may have faced.

Client reports should be based on fact and should refrain from being censored in any way, so a comprehensive report will show the natural ups and downs that any client-partner relationship faces.

A client report should be a relatively quick and easy way for key stakeholders and decision-makers to consume important information and drive business decisions. Most often, it shouldn't be a long, drawn-out report that takes a lot of time to comb through and analyze (long, in-depth reports make more sense during quarterly business reviews).

Why do we need client reporting?

It's a fact that it costs more to acquire a new customer than it does to retain an existing one. After you've extended efforts to bring on a new client, it's critical to nurture that relationship and make sure they stick with you for the long term.

Creating a relationship based on trust and transparency lays a solid foundation for repeat business. Think about it from the client's perspective: they're already paying you, they already know how you work, you already know the environment, and you've already established a rapport. It would be a waste of their time to have to vet and hire a new vendor to do the work you're already doing. So it's truly in everybody's best interest to protect the existing relationship and strengthen it over time.

One of the most powerful ways to build up trust and transparency is to get in the habit of sending client reports.

Especially in a world where we are mostly working remotely (i.e., fewer on-site visits with clients), it's hard to show all the work that goes into your day-to-day. A report lays out your value for a decision-maker to see. You can almost compare it to an itemized invoice that lists out many functions that your client otherwise would not be privy to.

Further, because reports are based on facts and show the good and the bad, they position you as a credible and trusted partner, not just a vendor. You're giving the full picture of what's happening versus trying hard to just make yourself look good.

Client reports also serve as a sort of audit for decision-makers. Imagine your point of contact leaves your client's place of employment. All the reports you've sent in the past will act as a paper trail of sorts to show the value of your partnership so that the person who is signing your checks doesn't hesitate to continue signing them.

What things should be included in a client report?

The specific data and metrics to include in a client report format will vary from client to client. It really depends on your role, what your service level agreement (SLA) outlines, how often you're sending the report, and what your point of contact cares most about.

That being said, here are 10 things that all client reports should include:

1. Benchmarks


Whether you're setting these standards for yourself or your client is doing that for you, include some benchmarks to measure yourself against. This way, your client can easily see how you're stacking up for that given time period. Plus, they will appreciate that you're working hard to meet the highest standards and you're human enough to understand that you may not always be perfect.

A good way to determine what benchmarks to set is to use your SLA as a guide. Average Time to Response is a common example - in your SLA, you may have agreed to always respond to tickets within 30 minutes or less. In your reports, you may want to always include your benchmark (30 minutes) versus your actual performance for the given period.

2. Key Performance Indicators (KPIs)


KPI tracking is such an important part of running a business. KPIs are like a north star that help guide the company along the right path to success.

Businesses like MSPs will often have their own internal KPIs they are regularly tracking and external KPIs that help assess the level of service they're providing their customers. Some external KPIs may even be used to determine if a client is a right fit.

Here are examples of KPIs you may be including in your client reports:
Average Time to Response
Customer Satisfaction (CSAT) Score
Open versus Closed Tickets
Net Promoter Score
Billable Hours
Activity Level/Health Score
3. Metrics


Tied to KPIs are metrics, which are trackable bits of data or that will help you piece together how well or not you're performing. In other words, they are results.

There are many different metrics you can be tracking at any given moment across the various departments within your organization. When it comes to including metrics in your client reports, you want to be purposeful about the ones you choose to include.

They should be tied to KPIs that clients find important and they should be high-level. Client reports are not typically the time to get too granular with metrics as you want clients to digest the right information as quickly as possible - think quality over quantity here.

Depending on the cadence of your report delivery, you'll want to choose the metrics that best tell the story for your given time frame. For example, in a monthly report you would want to focus on average kill rate percentage versus showing tickets opened today.

4. Goals


The practice of goal-setting is good for everyone to engage in - at the individual level and organizational level, on a personal level and a professional level, for the short term and the long term, and so on.

Showing clients how you're setting and tracking against goals helps to reinforce that foundation of trust you are building your relationship upon. You and your clients may even be coming up with goals together.

In your client reports, you can show progress of your goals using a simple chart or graph just as a visual reminder of where you stand.

By the way, benchmarks and goals can get confused with one another, but think of goals as the desired end result and benchmarks as the milestones you have to hit to reach your goals.

5. Budget


There are two important areas to consider when it comes to communicating about budget in your client reports: dollars and hours.

You want to show clients how their forecasted budget is tracking against projects completed or in progress. To put it simply, show them how you're stretching their budgets to cover the most amount of work.

In addition, you'll want to make sure everything is on track in terms of budgeted hours. Are your techs billing hours correctly? Are there any issues you need to point out to your clients? How can you mitigate any time issues before it starts impacting your client negatively?

These are topics you should be touching upon on an ongoing basis.

6. Revenue


If you're involved in your client's finances in any way, data pertaining to revenue MUST be included in each of your client reports.

As an MSP, if you're managing your client's endpoints, you may want to demonstrate how keeping warranties, patches, and machines up to date makes a positive financial impact over time.

Anything impacting cash flow or profitability is going to be high on the list of priorities for clients, so take care and be precise when reporting on these numbers.

7. ROI Tracking


Communicating on ROI is a big topic when it comes to nurturing that client relationship. Decision makers and key contacts are going to be really interested in how their investment in you will benefit them. This is closely tied to revenue reporting.

If you can demonstrate how your client's investments can result in big gains or cost savings or measurable business growth, you're going to put yourself in a great position to continue earning their business.

8. Areas of Improvement


Nobody does everything right 100% of the time. Whether you are sending daily, weekly, or monthly reports, it's a good idea to highlight areas where you didn't perform to the standards you would have liked, include context as to why performance was lagging, and identify solutions to prevent subpar performance in the future.

9. Summary of Events


Your clients may not be aware of the scale of work that goes into protecting their environment. If you are out of sight, what you are doing may be out of mind for them. Including a summary of events that you've covered (most likely without their awareness) will help them understand how proactive you are and how much time and effort goes into keeping their businesses running smoothly.

10. Reporting the Good and the Bad


We've said it before but it bears repeating itself over and over again: you can't only report on the wins. When it comes to client reporting, it pays to be fully transparent all of the time. Mistakes happen, things fall through the cracks, and lessons are learned. Clients will be especially understanding of this if you don't censor anything from them and if you're constantly working on ways to course correct in the future.

Even better, if an error occurred and you fixed it before your client noticed or before your report was due, including it in your report and outlining what was done to mitigate the error will show how valuable it is to have you as a partner. By doing this, you show that you're not going to your clients with problems. You're going to them with solutions.

The right client reporting tool

We've heard of many people not being consistent with client reporting simply because they take too much time to pull together. If you are toggling between many tools, pulling data off of each tool, inputting that data into an Excel spreadsheet, and then spending hours analyzing that data to draw conclusions, you could be eating into many valuable hours of your time.

With an automated client reporting system like BrightGauge, you win that time back and you get powerful reports out to your clients whenever you want. Some of our partners have said that our client reporting tool has saved them 8-10 hours per week, which is time they can now spend focusing on revenue-generating tasks.

With BrightGauge, you'll get pre-built report templates that you can quickly populate with your client's information, making it very easy to get started right out-of-the box. Even if you build reports from scratch, you can set them to automatically send out on the dates and times you choose, so you can rest assured that your client will get that report delivered to their inbox on a regular basis.

For an in-depth look at the BrightGauge client reporting system and other features, please contact us so we can set you up with a live demo.
Free MSA Template
Whether you're planning your first managed services agreement, or you're ready to overhaul your existing version, we've got you covered!