BACK
Integrations,

Product

|
Read
New Integration: Basecamp
Susan Perez February 27, 2019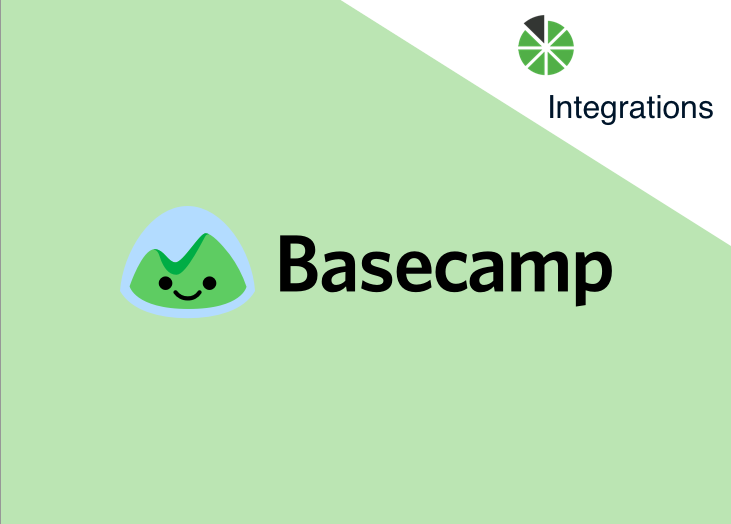 We're so excited to announce that we now offer Basecamp as an integration for our customers!
Basecamp is currently live and available to connect with.
We are personal users of Basecamp here at BrightGauge. We find that it's a really efficient way to track and manage projects, see what everyone's working on, know who is responsible for which tasks, and keep all important communications in one central place. The positive impact has been awesome, decreasing our number of meetings and practically eliminating the need for email (yay!).
When you integrate BrightGauge + Basecamp, you'll get visibility and details about your Basecamp activity, so you can see what your team's been working on and how much has been accomplished at any given time.
How to connect to Basecamp
If you're a Basecamp user and want to start viewing your stats on BrightGauge dashboards, you'll be up and running in just a few minutes.
When you're logged into BrightGauge and are on your overview page, click on the green 'Add a new Datasource' button.

Find Basecamp under the 'All' or 'Other' category, click on it, and follow all the prompts. Within a few minutes, you should be good to go.
If you need further instructions, check out our Basecamp support doc.
Not yet a BrightGauge customer? Contact our sales team today and we'll be glad to walk you through a live one-on-one demo.
What do I get out of the box?
We know how helpful it is to have access to your data as soon as possible, and you may not have time to build out custom gauges right off the bat. Instead, we'll help you get started by providing pre-built gauges, dashboards, and reports with every datasource we offer.
With Basecamp, you get 15 gauges, 1 dashboard, and 2 reports right out of the box.
Gauges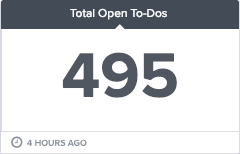 With your 15 default Basecamp gauges, you can easily keep track of all activities taking place within Basecamp. Get a look at comments on todos and projects, open and completed todos, project overview, total todos by assignee, overdue tasks, uncompleted todos, and more.
Dashboards
One default Basecamp dashboard will help you get an overview of all your Basecamp activity, but you can feel free to customize this dashboard to your preferences or build your own! The default dashboard will show todo stats (completed vs open vs uncompleted), a projects overview, and an open todos overview.
Reports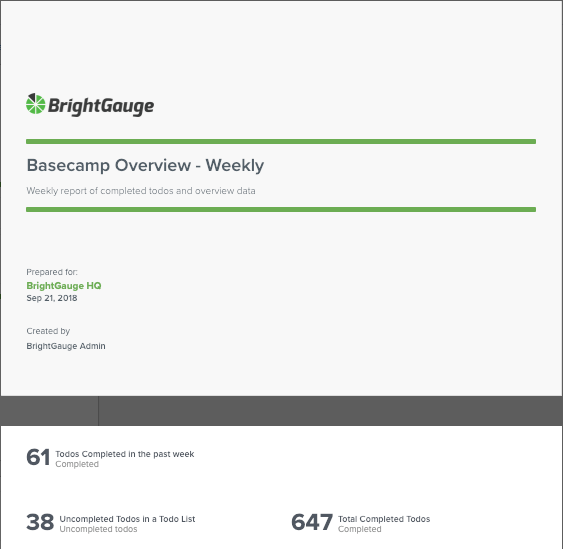 Custom reports are so great because they show a real sense of transparency between you and your team members, and transparency = trust. With Basecamp, we'll give you two reports to get you started. Feel free to use these as a jumping off point to customize the reports the way you'd like.
One report template gives you a monthly overview of your Basecamp activity, while the other one gives you a weekly summary.
Anytime you've got a question about Basecamp, please submit a support request or contact us and we'll be ready to help!
Free MSA Template
Whether you're planning your first managed services agreement, or you're ready to overhaul your existing version, we've got you covered!