BACK
Dashboards,

Best Practices

|
Read
Data Visualization and Security Monitoring for Your MSP
Susan Perez September 8, 2021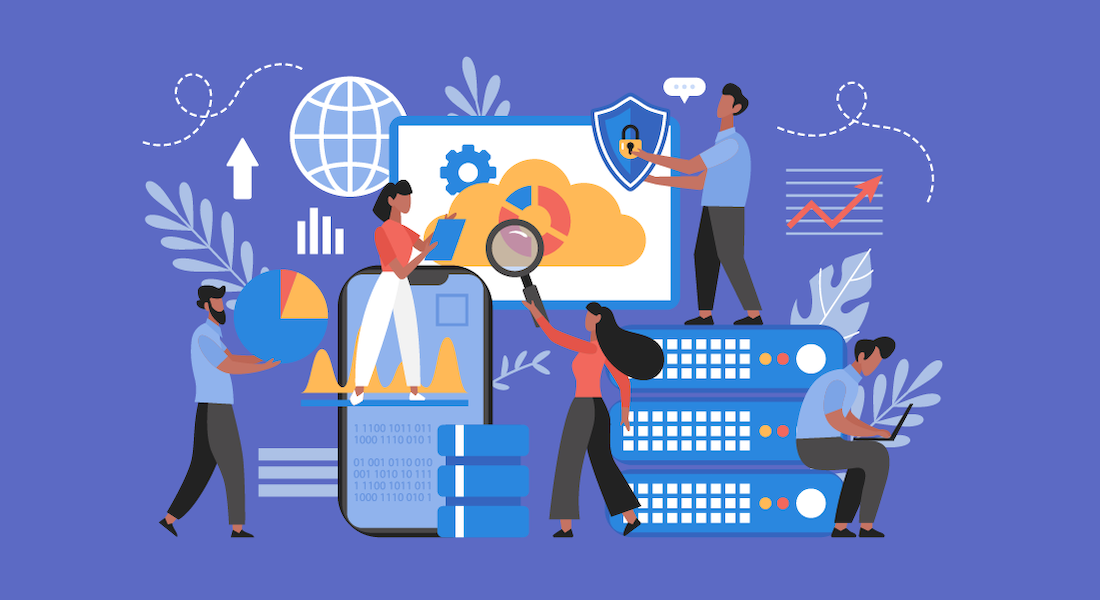 We live in an age where data monitoring is everything. Some people track their daily steps, their macros, and sometimes even their sleep. When you market your business, you want to know the numbers — how much is being invested, how many leads are you getting, what are the conversions?
The reason why everyone has become so data driven is because when you have this information right in front of you, you see trends you would've otherwise missed. And this is what helps you make better informed decisions. Whether it's on a personal or professional level, these insights can help guide you to success.
And when it comes to cybersecurity, they provide you with information that can literally save your business.

Quick Links
What Services Do Managed Service Providers (MSPs) Offer?
Managed service providers perform a wide variety of essential services, including network, infrastructure, and applications management (both on-site and cloud-based). They also offer ongoing help desk support.
Some MSPs may also team up with other vendors to provide a more complete suite of services. For example, while offering infrastructure services, an MSP may work with a partner to offer disaster recovery as a service (DRaaS) or backup as a service (BaaS).
While all of these services are pretty much required for your business operations, they all are built upon the safety net of network and cybersecurity. After all, a security breach could end up costing you — financially, your reputation, and even your business license.
That being said, it's crucial to note that MSPs work in partnership with their clients to keep networks protected. While MSPs work to secure and manage infrastructures, their efforts will only be effective if their clients also do their part to protect their networks. For example, enabling two factor authentication and restricting access based on job roles.
Employers should also regularly train employees on internal security policies, such as learning how to recognize telltale signs of a phishing scam, installing software updates as they become available, and regularly changing passwords — ensuring that these are difficult to guess (whether by getting ultra creative or by using a password manager tool).
In addition to training, all security protocols should be easily accessible to staff. Easy ways to do so is to create infographics and/or bullet points lists and include them in email reminders. It's also advisable to review these policies at monthly meetings. By ensuring everyone on your team is prioritizing internal security, MSPs are better positioned to do their jobs.
How Do MSPs Provide Security Monitoring?
Did you know that 92% of organizations would consider using/moving to a new IT service provider if they offered the right cybersecurity solutions? When you hire an MSP to provide you with cybersecurity services, that may include:
Updating antivirus software
Patching vulnerabilities
Upgrading network security configurations
Monitoring threats in order to prevent them
Responding to existing threats
Using end-to-end security
Monitoring employee passwords
Granting permissions to employees based on their job roles
Ensuring compliance with privacy laws and industry regulations
MSPs are able to provide security monitoring by staying updated on security threats. This includes regularly checking to see if any app or hardware vendors have announced network security configuration upgrades. But other than reading industry news, they also rely heavily on data from different sources. This allows them to spot any threats before they become bigger issues.
One big challenge with security monitoring is that security data is everywhere. You can create dashboards sourced from a variety of tools. Everywhere you look, someone's trying to sell you the newest gadget or software. A good MSP will know how to organize such data. They know how to sort through it efficiently so that they can immediately identify key indicators of a security threat. Once a threat is identified, they act preemptively.
What Kind of Metrics Monitor Security?
The metrics you need to monitor can vary depending on your specific business needs. This can include industry regulations, risk factors, and risk aversion. However, you should always pay attention to the following numbers:
1. Number of Known Vulnerabilities
MSPs should always be aware of internal and external vulnerabilities, as well as their level of severity. This includes viruses, malware, and personnel (password weaknesses, unauthorized access, or lost or stolen devices). Once this information is available, they can design security objectives and priority lists.
2. Attack Frequency
Cybersecurity has been a serious issue for years. However, cybercrime has increased significantly (by as much as 400%) since the beginning of the COVID-19 pandemic, as businesses have adapted to a remote workforce. They are often the result of phishing scams, ransomware, or people accessing unsecured WiFi connections.
3. Third Party Incidents
MSPs will know the number of unidentified users or devices within a network. They can also monitor the frequency of third party actors attempting to access our network. This helps identify possible weak access points.
4. Data Breach Response Times
Time is of the essence in the field of cybersecurity, so it's crucial to have skilled technicians acting fast. Security patches need to deploy as quickly as possible. Therefore, numbers to be acquainted with on a regular basis include MTTI (mean time to identify), MTTC (mean time to contain), and MTTP (mean time to patch). The longer these go unaddressed, the more disastrous the security breaches will be.
5. Number of Users with Administrator Access
Knowing who has access to what and limiting users to only the systems, data, and resources they need is a best practice in data security policy and procedure. Keeping tabs on who has access to everything can help you and your client identify how many hands are in everything — and should there be a breach, identifying potential in-roads or actors.
6. Frequency of Access By Third Parties or Vendors
As with your own employees, users representing third parties or vendors who have access to your network open the door for potential problems. Monitoring how frequently these individuals have access can reveal unknown or unidentified opportunities for attack or unauthorized usage.
7. Volume on Corporate Network
Abnormal spikes in the volume may indicate misuse or resources that could include users transmitting large files or downloading unapproved applications or files. These transmissions may leave doors open for malware or other malicious attacks, so monitoring volume and looking for consistent numbers is a key step in threat detection.
8. Training Effectiveness
Sometimes, internal breaches occur due to employees not being properly trained on security protocols. Therefore, every business should provide resources to remedy this issue — webinars, certification courses, newsletters, to name a few. Afterward, track whether there has been a reduction of incidents and adjust accordingly.
Keeping track of these metrics can be overwhelming. Fortunately, there are plenty of ways businesses can better monitor and interpret the effectiveness of their security measures. This is where data visualization comes in.
How Can Data Visualization Techniques Improve Security Monitoring for MSPs?
Data visualization is the visual representation of all collected data. It is an invaluable tool for MSPs when monitoring security because all relevant information is displayed in one centralized location. You can choose to have such data laid out as charts, graphs, gauges, or whatever other method you find helpful.
Creating dashboards with the data you want to track allows MSPs to access and interpret the data in real time. In turn, they can design and implement security measures that are specifically tailored to protect your business.
BrightGauge's Dashboards Facilitate Data Visualization
When it comes to choosing your business intelligence tools, you want to choose options that have all the functionality you need, out of the box, without complex coding involved. BrightGauge's data dashboards integrate with over 40 platforms and are fully customizable to your business needs. You choose the metrics that matter. We help you monitor them.
Free MSA Template
Whether you're planning your first managed services agreement, or you're ready to overhaul your existing version, we've got you covered!