BACK
Best Practices

|
Read
How BrightGauge Can Help Remote Teams Work Efficiently
Susan Perez March 17, 2020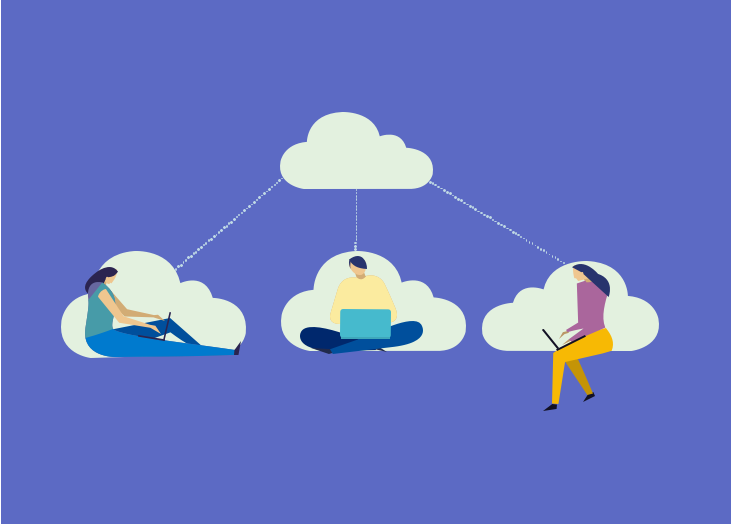 The global workforce as we know it is undergoing a major shift. More employees than ever before are working remotely or looking for that option from their employer.
In fact, a survey conducted by Global Workplace Analytics found that over the last 10 years, remote work has grown more than 90%, a figure that will undoubtedly continue to increase.
There's no denying that telecommuting is here to stay - it's better for the environment, it is said to have a positive impact on productivity, and it makes people happy given the work-life balance we're always chasing.
For any number of reasons, including COVID-19, you may currently be shifting to a remote work state, but may be wondering how it will affect company goals or the ability to manage individual team members.
BrightGauge is a tool that can help your remote teams be successful and remain on the same page.
Managing data is critical for remote teams
The best way to align team members, whether they are remote or in a traditional workspace, is to keep your eye on data. How do numbers paint a picture of what's going on in your organization?
You can't manipulate or hide numbers. Data is rooted in truth, so it's a powerful way to build transparency and trust in business relationships. Data shows exactly what is going on with anything from ticket statistics, sales opportunities, customer satisfaction, revenue, and more and takes the guesswork out of whether or not you're on track to hit goals.
And the best way to manage data is to choose the metrics and KPIs that matter most to your bottom line and then automate how you're consuming that information.
With BrightGauge dashboards and reports, you'll pull in data from tools you're already using (like ConnectWise, Autotask, QuickBooks, Customer Thermometer, and more) and view it all on a single pane of glass, keeping things organized and more visible to all team members. BrightGauge data updates in real-time, so there's no need to worry about being misinformed or out of the loop.
Let's put this in a real-world example.
Suppose you're managing a remote service desk. This is a critical team, as customers interact with your support department probably more than anybody else in your company. On one BrightGauge dashboard, you might view:
How many tickets were opened versus closed today
Average response time for tickets
Support team leaderboard

This shows a ranking of your team members based on parameters you set - perhaps most tickets closed today

Customer satisfaction scores
Stale tickets
Tickets opened versus Negative reactions
As this data constantly updates throughout the day, you'll never find yourself wondering what your different technicians are up to. Take it one step further by setting thresholds for certain KPIs - for example, be alerted anytime average response time goes above 30 minutes - so that you can take course corrective action immediately.
BrightGauge partner Josh Weiss of LA Creative Technologies has been managing a remote support team for quite some time now and finds that BrightGauge helps his service desk run seamlessly. Though his support team is based in Mumbai, a BrightGauge ticket processing dashboard allows his techs to triage and resolve tickets placed by clients all the way in Los Angeles, with no disruption in response time.
Eric Hoffmeister of Innovative Computing Systems already works with a mostly remote engineering team. Given the circumstances surrounding COVID-19, the helpdesk is now 100% remote and managers are learning how to cover work as normal. Through BrightGauge dashboards, admin time per tech is being tracked on an automated, real-time basis. A daily dashboard lets Eric keep a pulse on the team by showing who's on vacation, whether or not projects are on track, what each engineer's workload is, and so on, which means time is being utilized properly and efficiently.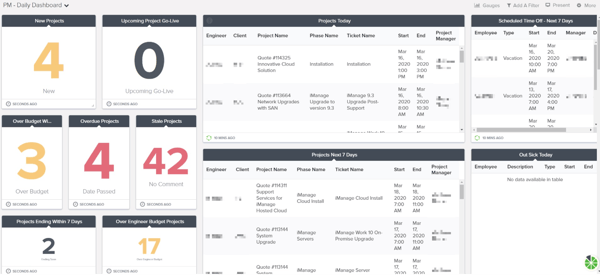 General tips for remote teams
- Use tools like Slack or Microsoft Teams to keep the lines of communication open
- Managers and employees should have regular check-ins to talk about progress, roadblocks, and strategy
- Follow a structured workday that keeps you in a productive groove
- Manage expectations - over communicate what is expected from one another
- Stick to deadlines
- Be honest with yourself and your team about what can get done
To learn more about how BrightGauge can improve visibility for your remote teams, schedule a live one-on-one demo with us today.
Free MSA Template
Whether you're planning your first managed services agreement, or you're ready to overhaul your existing version, we've got you covered!