NetworkDR is a Managed Service Provider (MSP) based out of New Jersey and a BrightGauge user since 2013. We spoke with Cenon Hipolito, Service Desk Manager, to find out what NetworkDr does, why they do it, and how BrightGauge has helped along the way.
Starting an MSP business
Similar to BrightGauge, NetworkDR began as a side business in 2003 when one of the partners felt he could help his community figure out how to set up their at-home wifi. From there, the business grew thanks to customers asking for help with other IT-related issues. Before long, a full-fledged company had been established.
Cenon tells us that he believes NetworkDR's success is partially owed to the fact that their mission has remained the same since day one: to create raving clients. To do that, it starts from within.
"We zeroed in on ourselves first and focused on developing a really great work culture so that our superstars and superstars in the making would want to stick around," explains Cenon. "Familiarity is key to great customer service, so those employees who have been around for a long time have a better sense of how our customers operate. I think that's helped our clients spread the word about us."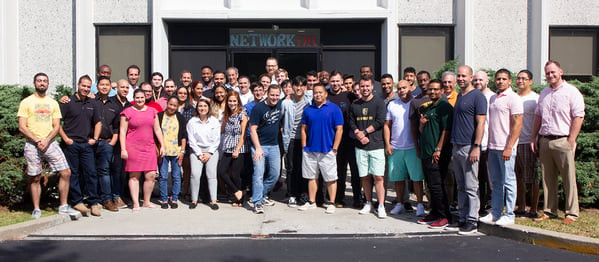 Great customers deserve great customer support
NetworkDR prides itself on word-of-mouth being their strongest marketing tool, never taking for granted how important a client relationship is. Ideally, they want their clients to think of NetworkDR as a trusted partner, not just a third-party service provider.
"We try to look for customers that don't look at us as just another vendor," says Cenon. "Someone who feels confident enough to tell us what they need when faced with a problem."
NetworkDR's commitment to customer service is what keeps customers coming back for more. Their technicians spend time listening to each customer's unique issue and patiently work to find a solution, even using FaceTime when necessary to get a first-hand look at what the customer is dealing with.
For NetworkDR, customer service goes beyond just solving problems. It also means nurturing client relationships and making sure team members go above and beyond to adhere to service level agreements (SLAs). This is where BrightGauge comes in.
How BrightGauge fosters NetworkDR's relationships
When a NetworkDR partner attended IT Nation one year, they were introduced to BrightGauge at a time when they were seeking a client reporting solution.
"We were looking for something that could automate reports in a nice format," says Cenon. "BrightGauge said, 'We can easily do that and we integrate with ConnectWise,' so it was just a no-brainer for us."
The impact has been significant. Since signing up, NetworkDR has sent their clients monthly reports outlining their SLAs, tickets, alerts, and a number of other metrics.
"We're trying to make ourselves as transparent as possible; we don't have anything to hide," says Cenon. "With BrightGauge, our clients are getting these automated reports that don't come from an excel spreadsheet or a specific individual, so they know we're not manipulating any numbers."
Plus, Cenon loves that you don't need to have specific SQL knowledge in order to easily create powerful BrightGauge reports.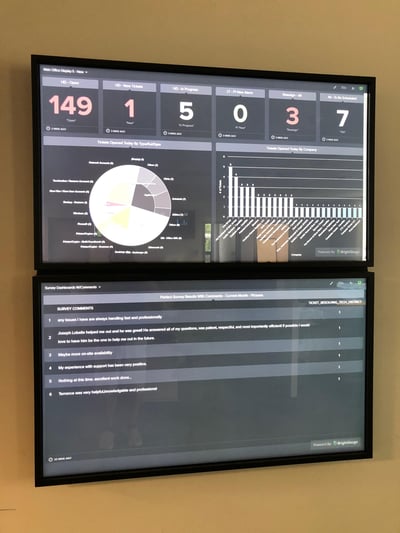 Cenon and NetworkDR have also discovered the power of BrightGauge dashboards. With 6 TVs around the office displaying rotating dashboards, it's easy for them to immediately jump on any issues that pops up. Clients who visit the office are amazed at what NetworkDR can monitor through BrightGauge.
Unique ways to use BrightGauge
Cenon makes it a point to have full visibility of all the office's TVs displaying dashboards so that if an issue arises, he can see it right away and get the appropriate parties involved as soon as possible. Cenon found a way to take that visibility even one step further.
"Two of our TVs are actually 50-inch touchscreens," says Cenon. "If we have a gauge with an alert, we can touch that gauge to drilldown further and find out what the alert is all about and then take necessary action."
This type of visibility has resulted in improved response times and SLAs, a true win-win for all parties involved.
To keep his team motivated, Cenon uses leaderboards to monitor how many tickets an individual has worked on, how many alerts were resolved, billable time versus non billable time, and more. As Cenon puts it, nobody likes to be on the bottom, so the leaderboard situation has publicized the need to stay productive.
Finally, Cenon has started implementing BrightGauge goals with his team in an effort to place accountability back into individual team members' hands.
"We're all busy," says Cenon. "When my team members have the opportunity to check in on themselves and see how far they've gotten in a goal, it takes a lot of pressure off of me and lets everyone work at their own pace. Having the simplicity to see how much work has been done or needs to be done on a goal is key."
Cenon talks more about great customer support and team-building practices in this month's podcast. Check it out to learn more about how they're growing their business through team input and mentorship.