BACK
Best Practices

|
Read
7 Sales Activities KPIs to Track Right Now
Susan Perez July 15, 2020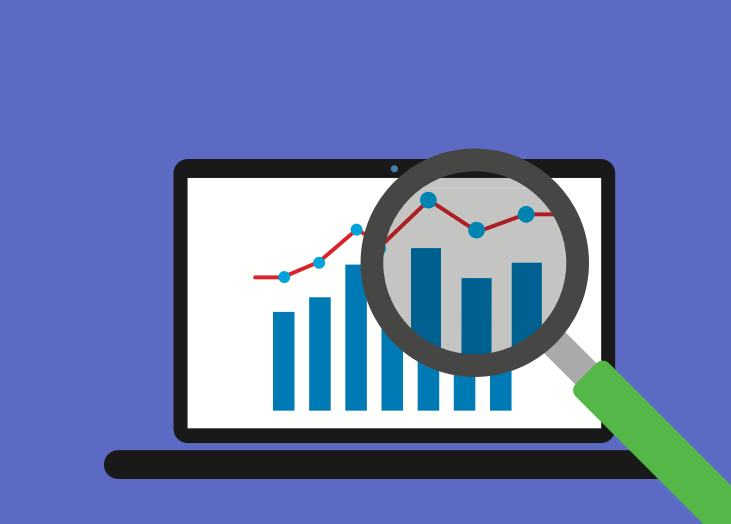 As many managed service providers (MSPs) are placing a heavy emphasis on customer retention in addition to customer acquisition, it's becoming increasingly important to understand how to track and manage sales activities, opportunities, revenue, and more.
Having a solid grasp on these activities can make a real difference in how efficiently your business is run because if these critical metrics fall through the cracks, it can have a negative impact on the business decisions you make, thus causing a ripple effect.
The key is to hone in on a specific set of metrics and track them in real-time.
Just ahead, we cover 7 key performance indicators (KPIs) you should be tracking and how you can automate the monitoring process.
7 Sales Activity KPIs to Track
Net New MRR - the reigning champ of all sales metrics. This is one that every sales manager is sure to prioritize, as it is a valid indicator of how well (or not) your company is growing. Essentially, Net New MRR is the amount of monthly revenue generated by new customers and comparing this metric over time is essential in understanding your typical periods of high-profits versus churn, how your growth is trending, and how to plan and forecast your financial performance.
Quotes Won

- quite simply, this is a number that tells you how many quotes have been closed in any given time period (likely per month). It serves as a quick check-in to make sure sales performance is at an acceptable level. A number that is below your specific threshold can indicate that it's time to dig deeper and find underlying causes for that level of performance.

Percent Gross Margin

- this may be the oldest KPI on the block, but it'll never not be important, as it is another solid indicator of a company's financial performance. It basically is a calculation of your total revenue minus your cost of goods sold (aka, Revenue - Expenses). The higher this number the better, as that shows you're bringing in more than you're spending - in other words, you're making a higher profit on each dollar being spent to run your business.

Top 10 Accounts by Revenue

- which of your clients can you credit with bringing in your largest chunk of revenue? And why is it important to know this? Well, it is known that it is more economical to retain existing clients than to attract new ones. So, if you know who your top performers are, you're going to want to focus on nurturing those accounts and making sure those clients have what they need to stick around for the long-term.

Quotes Leaderboard

- in this time of global unrest, remote work, and many "unknowns" it's increasingly challenging and important to motivate and incentivize your team members. Leaderboards are an effective way to do this from afar because they rank performance for all to see. Creating a sales leaderboard based on who has closed the most quotes can inspire a little healthy and friendly competition between team members and can effectively keep motivation up. Reward your winner with an Amazon gift card or something simple.

Profitability

- the best way to track profitability is to understand how it fluctuates over time. What are the trends associated with this number? Are you generally becoming more profitable over time (awesome!) or are you wavering back and forth? When calculating this metric, you're likely taking revenue, costs, and gross margin into account and comparing what they do over time. Understanding this will help you plan for the future.

Count of Quotes Won

- yes, we already covered this one, but here's a different way to analyze this metric. Take a look at this number over time - for example, for each of the last 6 months - to understand when you've got momentum and what you can attribute to that momentum. You may notice trend lines that can drive your sales processes in the future.
Automating KPI Tracking
It's easy to understand the need for and importance of tracking data, but doing so can be a full-time job in and of itself. This is why it pays to invest in a tech stack that works for you. Have reliable tools that support your business and can automate time-consuming, yet critical tasks for you.
Any sales manager should be using a sales tool, like ConnectWise Sell, to manage quotes, proposals, contacts, opportunities won, and more. This is just an absolute must if you want to keep your sales processes and communications with prospects or partners organized.
Because you're likely be using several tools across your company (your accounting team may use Quickbooks, service team may use ConnectWise Automate, marketing might use SmileBack, etc), it also makes sense to bring in a tool that can consolidate all your data into one place, like BrightGauge.
Adding business intelligence like BrightGauge to your stack can give you that real-time, high-level visualization of your KPIs at any given moment in time. Having the ability to glance over at a dashboard and see your important metrics can be a game-changer for stronger and faster business decisions.
Plus, it makes it easier to share KPIs with internal team members, key stakeholders, or your clients, which gets everyone on the same page and working together to meet goals.
No matter the datasource you're integrating with BrightGauge, you'll have access to pre-built dashboard and report templates, meaning you'll get right to that data you need from day one.
As an example, if you integrate ConnectWise Sell with BrightGauge, you'll automatically have access to a Monthly Performance Report that pulls in all the KPIs we listed above.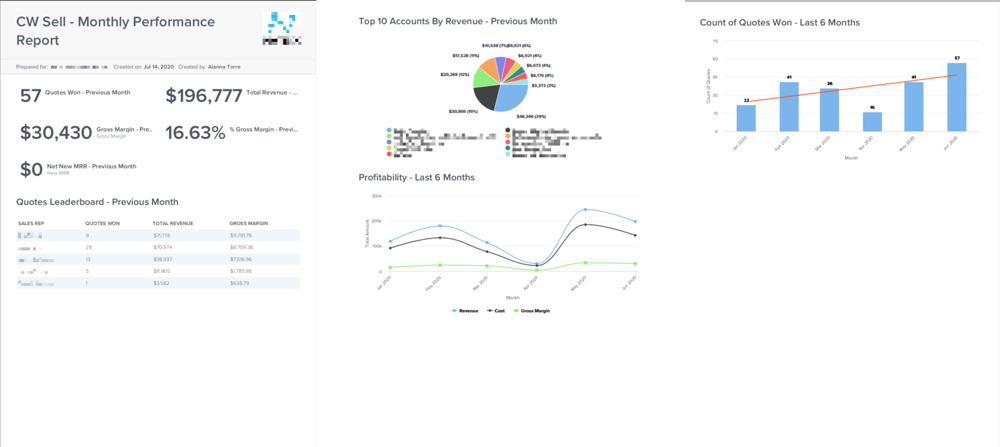 Month-to-month you can review this data with your team, dig into why the numbers are where they are, and make a plan for the coming month. Doing this ensures everyone is optimizing productivity, efficiency, and accountability and it fosters relationships built on trust and transparency.
To learn more about this ConnectWise Sell Monthly Performance Report or to ask a question about BrightGauge, contact us today.
For more KPIs that MSPs should track, plus their accompanying formulas, see 70+ Metrics for MSPs.
Free MSA Template
Whether you're planning your first managed services agreement, or you're ready to overhaul your existing version, we've got you covered!