BACK
Customer Success

|
Read
[Case Study] CadreNET saves 25 Hours per week using BrightGauge
Amanda McCluney September 2, 2015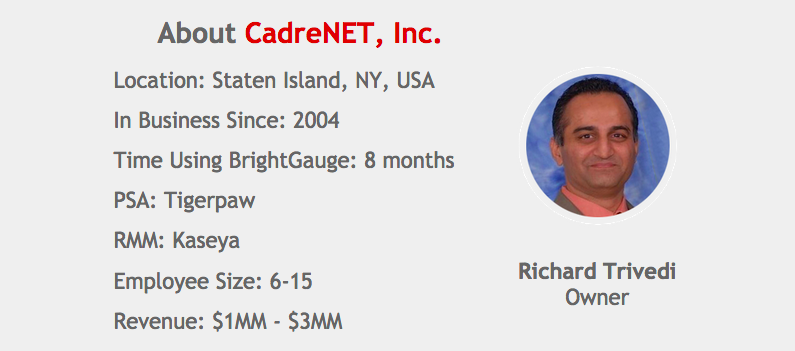 In the beginning, CadreNET was manually producing reports along with using built-in dashboard functionality from their PSA, Tigerpaw. They lacked an efficient way to produce internal reports, monitor their business or even make metrics-based decisions. Owner Richard Trivedi found a solution using BrightGauge to monitor not only his business, but his team as well.
Needing a Consistent Business Update


As a Managed Service Provider, it's critical for CadreNET to process data quickly and accurately. But when it came to their built-in software resources at hand in Tigerpaw and Kaseya, they were missing a way to tie all their metrics into one easy-to-monitor resource. The management team was left to manually produce timesheets, income reports and more - a serious time commitment for a team focused on growing their business. With 12 metrics to check and a processing time of 10-15 minutes per metric, the minutes quickly turned into hours for each status update. Furthermore, they found that when they did run reports from their softwares the data was often inaccurate and never gave them the right figures.



Building a Data Process


As Richard immediately realized, he and his team were desperate for a dashboard solution that would keep them up to date throughout the day with real time data. After realizing that BrightGauge did not yet integrate with Tigerpaw, Richard evaluated other solutions in the market but was very disappointed by poor follow-up and customer communication when installations failed on deployments. After this frustrating experience he decided to put the project on hold and revisit in the future.

Within a week of moving on, Richard received an invitation to be a Tigerpaw Beta tester with the BrightGauge team and instantly volunteered to help. He found the setup to be very simple: with our standard instructions plus a quick introduction call from our team, Richard was up and running by himself in less than 10 minutes.



The BrightGauge Experience


Using the BrightGauge platform, Richard now has real time information in front of him that helps significantly when it comes to making business decisions. Being able to monitor time entries made by his team also gave Richard access to tracking their performance, greatly reducing missed tickets entered into Tigerpaw. At roughly 10% of billable tickets being lost prior to BrightGauge, the money reclaimed moving forward was a notable win. But besides the money gain, Richard noticed an even larger feat when it came to his time savings. By using the BrightGauge gauges and dashboards as compared to running reports himself, Richard saves an average of 20-25 hours each week.






Recommending BrightGauge

"There are many reasons [to recommend the platform] but product performance and support are always the two main reasons, and BrightGauge has surpassed my expectations on both. My most positive experience has been working with the team - they are top notch and always willing to help. I was extremely pleased with the product and team from Day One."


Free MSA Template
Whether you're planning your first managed services agreement, or you're ready to overhaul your existing version, we've got you covered!