BACK
Customer Success

|
Read
Dashboard of the Month - Quarterly Business Review
Derek Weaver August 20, 2019
Quarterly Business Reviews or Technical Business Reviews are a vital part of any MSP-client relationship. These scheduled reviews are an excellent opportunity to connect with clients, highlight the services you provide, and create a strategic agenda moving forward. With BrightGauge, creating a QBR is simple. This month, we show you how to construct a shareable and completely customizable QBR Dashboard for each of your clients.
Before applying a client filter, the dashboard serves as a high-level overview of your operation. This allows you to standardize metrics and establish trends which you can compare each individual client thereafter. It also gives you the opportunity to identify areas in which you can improve processes via automation, updated documentation, providing additional training, or simply making better use of the fields within in your PSA, RMM, and CSAT solutions.
When it comes to individual client-views, adding a filter takes seconds. Once a client filter is applied, you have a few options on how to get your QBR Dashboard in front of your clients:
Clone and share with key stakeholders via Viewer User licenses

Add/remove specific gauges depending on what you want to present to each client

Convert the Dashboard to a Report

Save as a template
Create a schedule for automated delivery either as one-off or quarterly
Pro Tip: Add gauges from each of your Datasources, especially the proactive work you do for your clients!
August's Dashboard is built from ConnectWise Manage, ConnectWise Automate, and Smileback but you can recreate it using any combination of PSA, RMM, & CSAT tools.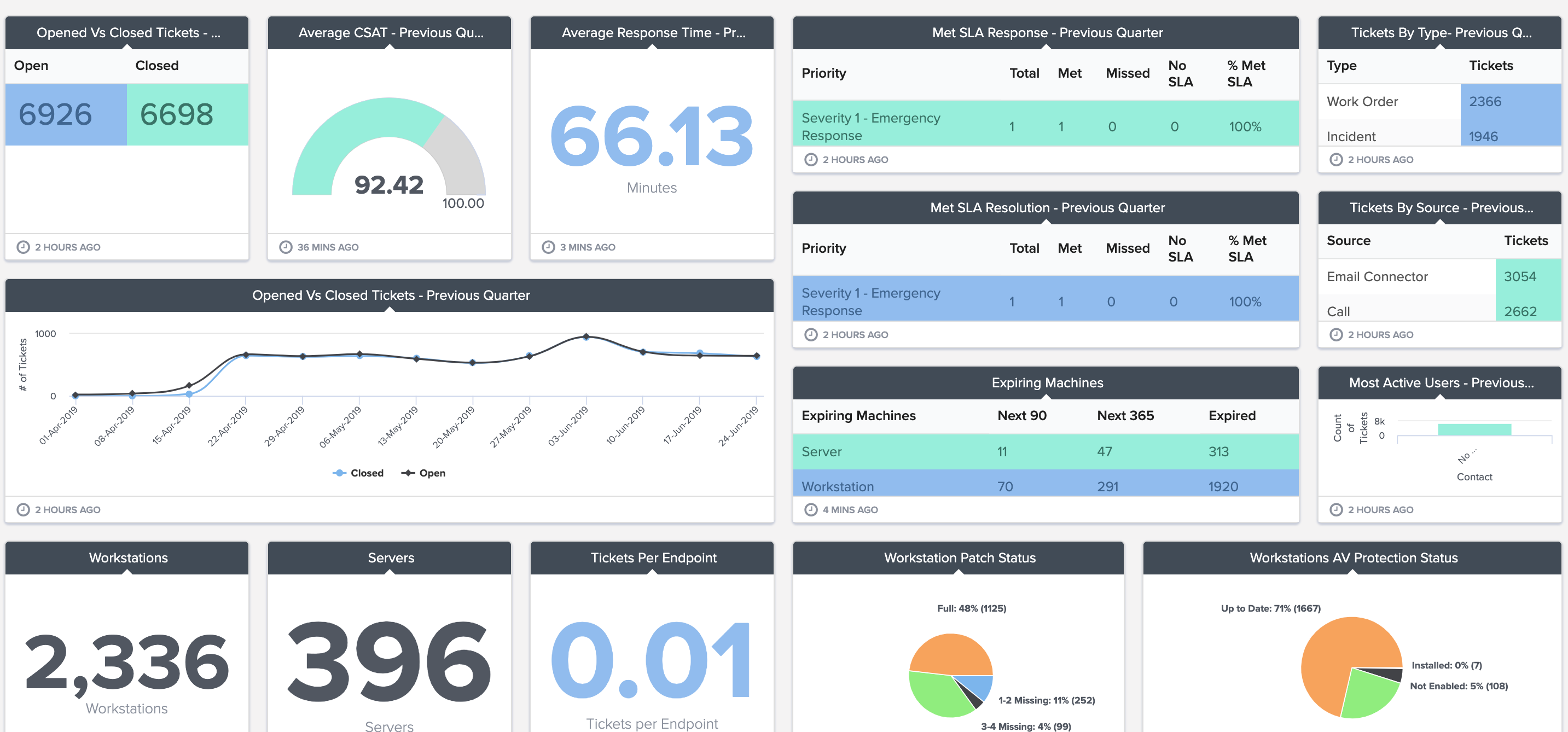 Want more information on QBRs? See our Complete Guide to QBRs for MSPs blog post
Think this dashboard will be helpful for your team? Reach out to success@brightgauge.com if you'd like to recreate this dashboard for yourself and we'll be happy to provide the guidance you'll need.
If you want your dashboard to be featured in an upcoming post, please send a screenshot of your Dashboard to Success@BrightGauge.com. We'd love to see your work!
Free MSA Template
Whether you're planning your first managed services agreement, or you're ready to overhaul your existing version, we've got you covered!