BACK
Product,

Best Practices

|
Read
How Reports Drive Accountability
Susan Perez July 12, 2018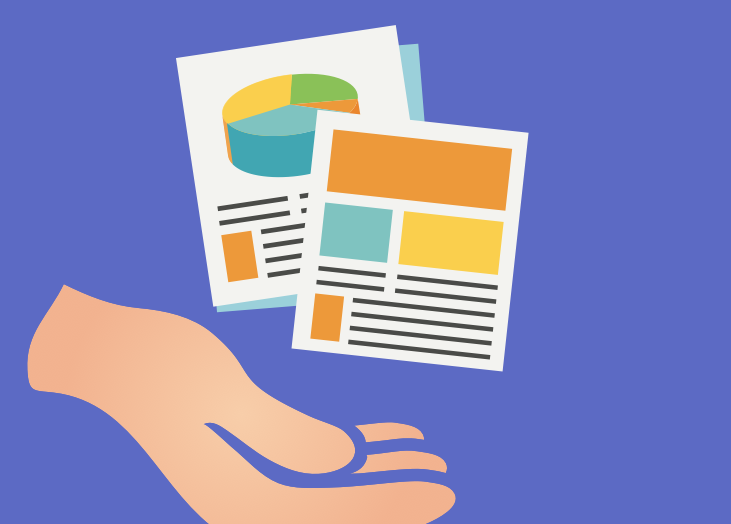 Every business owner and manager knows that maintaining a strong relationship with a solid base of clients is non-negotiable in setting an organization up for success. This takes a lot of work.
Clients tend to stick around when business owners and agencies prove themselves to be trustworthy and reliable. Long-term clients mean a positive impact on your bottom line, so transparency should really be a priority for any business manager.
This isn't the first time we've said this and it won't be the last time, but we are big believers in sending consistent client reports to remain transparent and build that trust we're all looking for.
Client reports show that your word is credible and that you are dependable, plus they are a great way to drive accountability within your own team.
Why reports are so impactful
When a client hires you to provide a service, both parties agree upon and set forth a service level agreement (SLA) with certain benchmarks that will define success. How well or not you adhere to said SLA tells a client a whole lot: whether you're experienced and knowledgeable, if you're good at keeping your word, if you're providing fair and honest service, and (most importantly) if you should be trusted with repeat business.
Since customers are investing a lot of their resources into you, it serves you well to consistently show them the work you're doing for them.
Reports are a powerful way to exercise this level of transparency because they pull in metrics that are based on hard data, and numbers don't lie. Factual data leaves no room to be subjective - it allows one to draw objective conclusions, which leads to wiser business decisions.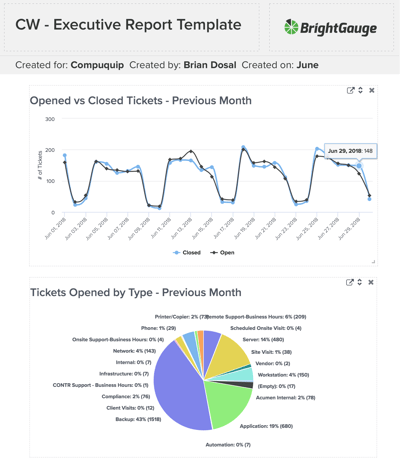 Basically, you can't bs your way through a report. If your SLA states that your Ticket Response Time should never go past 5 minutes, you're going to have to report that number whether it's 1 minute or 10 (talk about motivation to hit your goals).
Reports also pack a punch because they allow you to show a client exactly what they want to see. You don't need to fluff up a report. Provide clients with straightforward, honest data that gives a comprehensive snapshot into the work you're doing so they are not left wondering, "what am I paying you for?"
Motivation to do your best work
By sending frequent, regular reports - let's say on a daily basis - your clients come to depend on you for consistency. They're going to see your team's actual output and knowing this drives an inherent sense of accountability.
Therefore, your team members will be motivated to do their best, most productive work on a consistent basis.
As humans, we like to feel good. When you take actions that the brain perceives as good, it releases feel-good chemicals that bring on even more happy feelings (the opposite of a vicious cycle). Conversely, when you have feelings of stress, which are likely brought on when you have to report less-than-ideal metrics, your cortisol levels increase, which is bad news for overall health.
It's literally good for your health to do valuable work and remain accountable.
This may seem like a stretch, but when you consider the portion of our days and lives that are spent working, it only helps us to take actions that are positive.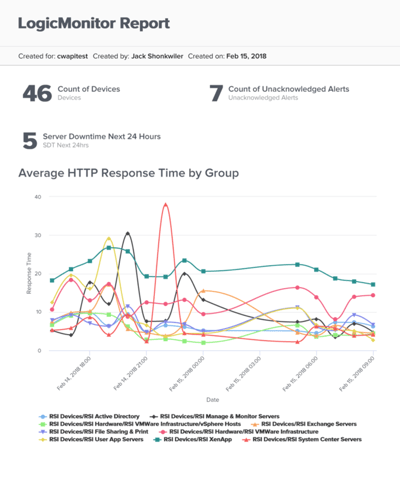 In the case of client reports, it's realistic to assume that there will be times when your performance is not up to par, but if you're persistently trying your best and showing your value to your clients, you're walking down the right path.
BrightGauge makes reporting a no-brainer
If you're using BrightGauge dashboards to view your important key performance indicators in one place, then everything you need to send client reports is at your fingertips.
BrightGauge provides insights through many popular datasources, like ConnectWise, IT Glue, Webroot, Quickbooks, and Customer Thermometer, just to name a few. Regardless of the integration you want to connect with, we take the time to pre-build default gauges and dashboards so you can get started right out of the box. Same goes for reports.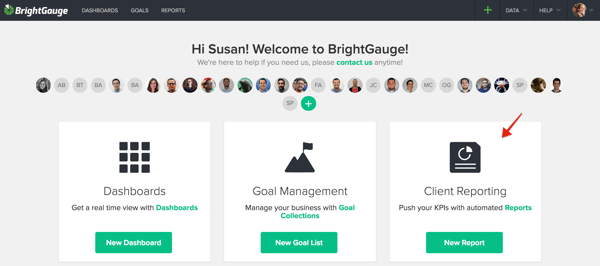 The insights that you're already measuring on a daily basis are likely what your client cares to see as well. When you visit the Client Reporting section of BrightGauge, you'll be prompted to create an internal report or one for your clients. Then, you can opt to start from scratch or choose from our pre-built templates.
From there, it'll take just a few minutes to customize your reports with the exact info you want - including your logo and any contextual copy - and then schedule it to go out on a recurring basis to whoever you want, whenever you want.
It takes such little effort on your part to create these reports, but the payoff is huge.
When thinking about scaling or growing your business, repeat business can do so much in terms of profitability. Hold yourself accountable to your company's success by taking actions - such as sending client reports - that, at the very least, make you look good.
Wondering who to send reports to, what to include, how to send them, and why you should even bother? We dive deeper into the subject in our free webinar, Client Reporting Best Practices.
Free MSA Template
Whether you're planning your first managed services agreement, or you're ready to overhaul your existing version, we've got you covered!