BACK
Best Practices

|
Read
Incentivizing & Motivating Your Team Through ConnectWise Dashboards
Susan Perez August 30, 2018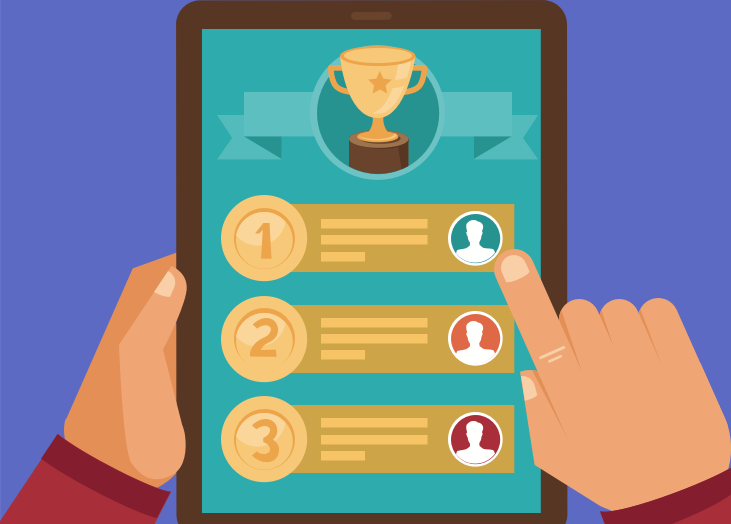 Business leaders are faced with challenging tasks on a daily basis, including how to keep their teams motivated and productive.
There are plenty of ways to do this, be it through performance reviews, annual raises, enriching industry-based trainings, fun company perks, promotion opportunities, healthy team challenges, and countless other team motivation ideas.
How about using data to motivate your employees? The effects can be pretty great and it's simple to do with ConnectWise dashboards through BrightGauge.
Inspire a little friendly competition
A lot of us human beings are competitive by nature. We like to rise to the occasion and use the success of others around us to push us to be better. There's nothing wrong with this, as long as it's for the right reasons (like personal growth) and as long as we keep things light.
In the workplace, friendly competition can do wonders for productivity. The smart way to do this is to set a realistic (but ambitious) goal to be achieved within a specific timeframe and task your team members to reach that goal. Ideally, whoever reaches it first or most efficiently will be rewarded in some way.
Your team members will be really motivated to work hard to reach that goal (especially if the reward is quite appealing) and your company as a whole will benefit, since meeting the goal will presumably impact bottom line in a positive way.
It's a win-win.
Using BrightGauge in your competitive challenge
While talking to a customer at a recent Data Driven Workshop, we were discussing how to use the data pulled in through BrightGauge to make team members work more efficiently. The solution we came to together was to use leaderboards tied to data in a competitive way.
The main reason for this? Data does not lie. You can't manipulate it. A competition based on data would be completely straightforward and objective.
Let's go through an example using ConnectWise dashboards.
The majority of our customers use BrightGauge to get a better handle on their ConnectWise data and to send powerful, automated executive reports to their clients. With ConnectWise Manage and Automate, BrightGauge users are monitoring metrics like Hours Worked Per Ticket, Ticket Response Time, Kill Rate %, Billable Hours, SLA Statistics, Machine Patch Status, Workstation
Health, Server Patch Status, and so much more.

Perhaps you're viewing Tickets Past Due and Resolution Time on one ConnectWise dashboard and you've noticed that the numbers are not quite where you'd like them to be. This is the perfect time to incentivize employees through a competition.
What you could do is add a leaderboard to your ConnectWise dashboard that tracks each technician's ticket information.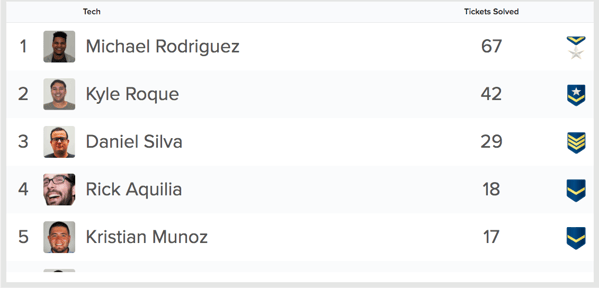 With BrightGauge leaderboards, each tech will be ranked according to the parameters set and you can even set it to add little badges next to their names, depending on the tech's performance.
Since the leaderboard is based on ConnectWise data, it will automatically populate the fields with the number you want to track. Because nobody is manually inputting data, there's no room for error or misinterpretation (not that we think your team members would ever be dishonest!).
If you have TVs around your office that display your dashboards, make sure those leaderboards are up for everybody to see! That kind of visibility really pushes people to do their best, because who doesn't want to see their name in the #1 spot?
Remember that the purpose of the leaderboard is to inspire and motivate your employees to be really efficient while at work. It should not be used as an excuse to punish or criticize somebody for their performance (unless, of course, you see glaring issues happening repeatedly).
At the end of your predetermined timeframe, you can turn to your leaderboard to assess who performed the best in achieving the desired Ticket Response Time, or whatever goal you set forth.
Keep the motivation up by creating ongoing challenges that will empower your team members and make them feel like they are truly contributing to the overall success of your organization.
P.S. these data and leaderboard challenges can be accomplished with any of our BrightGauge integrations! We just used ConnectWise dashboards as an example.
Free MSA Template
Whether you're planning your first managed services agreement, or you're ready to overhaul your existing version, we've got you covered!