BACK
Product

|
Read
New Integration: NinjaRMM
Susan Perez November 5, 2020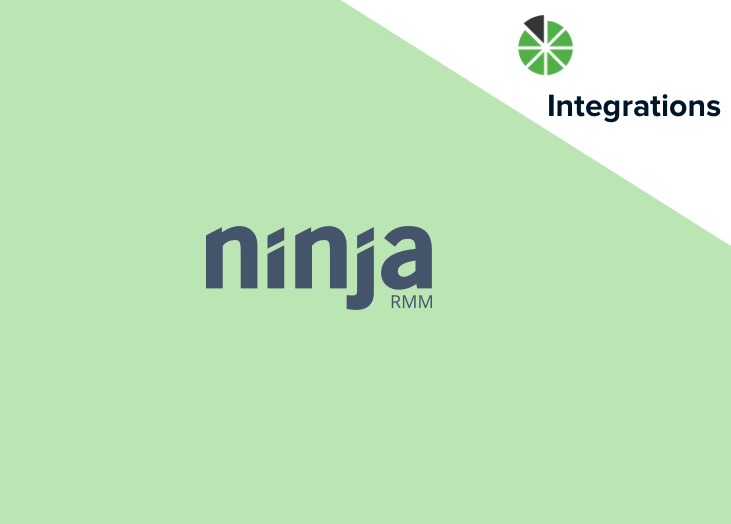 This one's been a long time coming!
We're excited to announce that we now offer NinjaRMM as an integration for our partners to connect with.
NinjaRMM is a remote monitoring and management tool that was designed to provide IT professionals with all the support they need to manage their client's endpoints.
When you integrate BrightGauge + NinjaRMM, you'll get a single-pane-of-glass view of the important RMM metrics that impact your day-to-day decisions.
What do I get out of the box?
We know how helpful it is to have access to your data as soon as possible, and you may not have time to build out custom gauges right off the bat. Instead, we'll help you get started by providing pre-built gauges, dashboards, and reports with every datasource we offer.
With NinjaRMM, you will get 25 gauges, one default dashboard, one report template when you open an account.
Gauges
With your 25 default gauges - or key performance indicators (KPIs) - you can easily keep an eye on metrics like most installed applications, active AV threats, devices with failed patches, drive disk space used, servers offline, and more KPIs relating to workstations, servers, and machines. Knowing the status of these KPIs helps you stay proactive and combat your client's issues before they become real problems.
Dashboard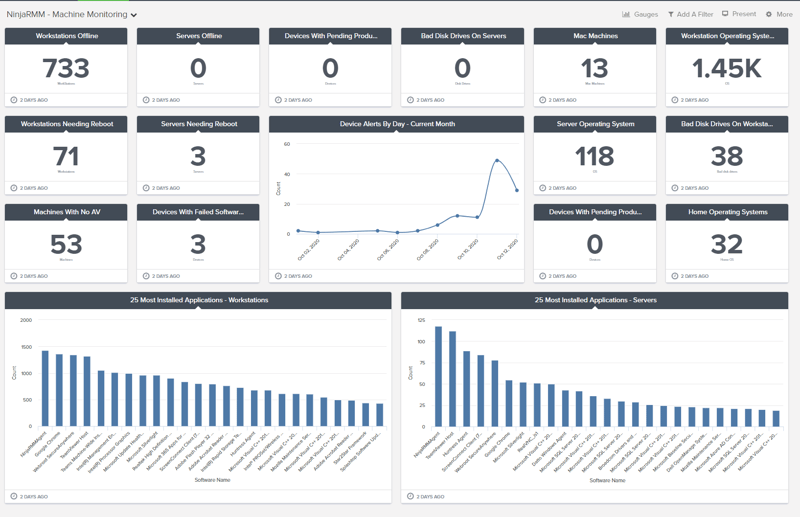 The NinjaRMM default dashboard is all about machine monitoring and shows you your relevant machine KPIs on one screen. Just glancing at this dashboard can give you an accurate picture of your client's health and can quickly show you areas that may need addressing.
Report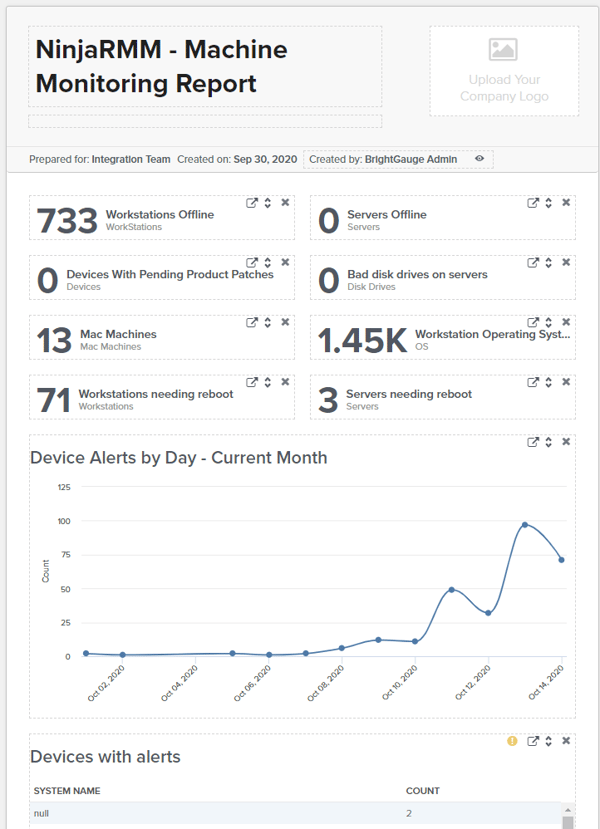 Sending out consistent and regular client reports is our favorite way to build a relationship built on trust and transparency with our clients, which can ultimately lead to long-term business. We help you get started with one report template covering the important machine monitoring KPIs your client will care about. It's easy to customize this template as you wish (or leave it as is) and schedule it to automatically send out on a recurring basis. By doing so, you'll make sure your client is always in the loop!
Again, our integration with NinjaRMM is now live and ready for you to connect with.
Read our support documentation for information on connecting your account to NinjaRMM, or feel free to contact us with any questions you may have.
Free MSA Template
Whether you're planning your first managed services agreement, or you're ready to overhaul your existing version, we've got you covered!