BACK
Product

|
Read
New Integration: Sophos
Susan Perez April 8, 2020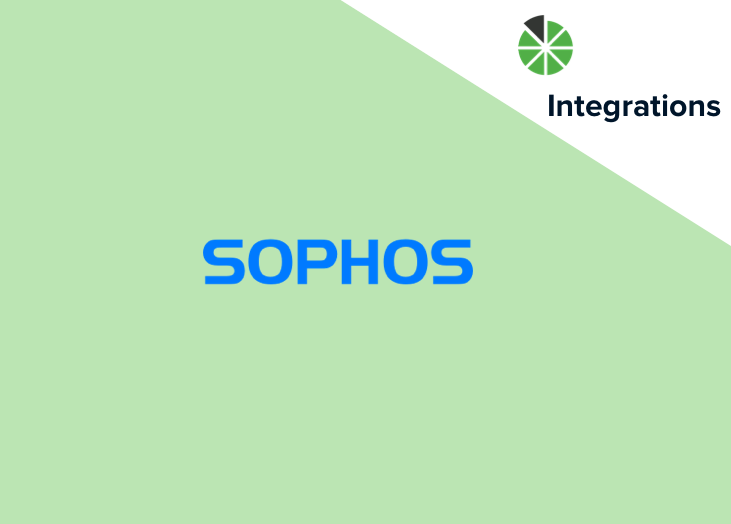 Announcing the latest integration to launch at BrightGauge: Sophos. Sophos is a fully-synchronized, cloud-enabled cybersecurity solution that is now available to pair with BrightGauge.
With Sophos and BrightGauge, partners can expose metrics pertaining to endpoint health/threat status, identify problematic tenants, and categorize or review alerts.
By combining Sophos with BrightGauge, you can strengthen the power of your cybersecurity prevention measures by staying proactive and constantly on top of your data.
How to Connect to Sophos
It's quite simple to start working with any of our datasources.
To connect to Sophos, click on the green 'Add a new Datasource' button, found on your BrightGauge overview page.

Find Sophos under the 'All' or 'Security' categories, click on it, and follow all the prompts. Within a few minutes, you should be good to go.
If you need further instructions, check out our Sophos support doc.
Not yet a BrightGauge customer? Contact us today and we'll be happy to schedule a live one-on-one demo.
What do I get out of the box?
We know how important it is that you get access to your data as soon as possible. After all, your business depends on it.
Because of that, we took the time to build out default gauges (KPIs), pre-built dashboards, and report templates, available to you the day you open a BrightGauge account.
With Sophos, you get 26 KPIs, 2 dashboards, and 1 report.
Gauges (KPIs)
The defaults that come with the Sophos integration relate to alerts, endpoints, and tenants.
Alerts are notifications generated in Sophos that require administrative action and come in categories such as 'general', 'updating', and 'connectivity'. They are classified by severity.
Endpoints are defined as a server, computer, or other device protected and managed by Sophos.
A tenant is a collection of resources such as devices, events, policies, and people.
With these BrightGauge KPIs, track the status of your endpoints, the severity of your threats and alerts, and your total number of tenants.
Dashboards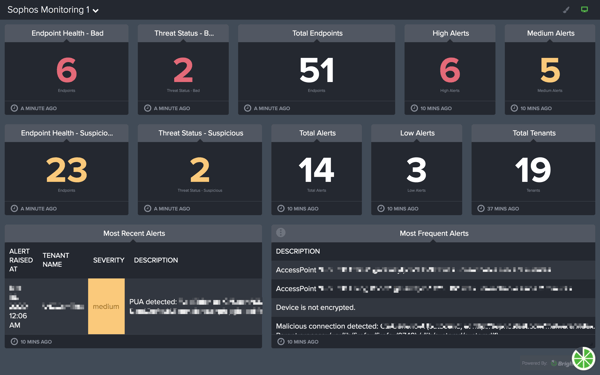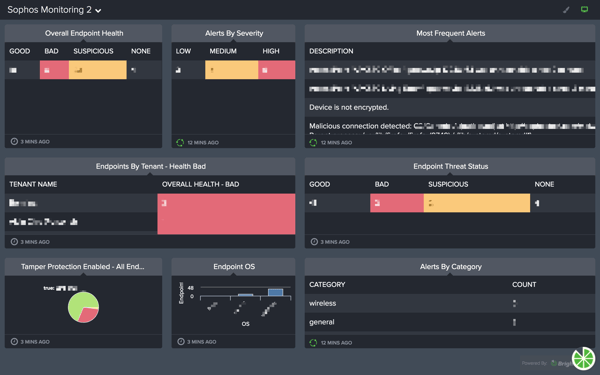 Two default Sophos dashboards give you a bird's-eye view of where you stand at any given time. Access these right off the bat so you don't miss a beat when it comes to your important data.
Reports
Custom reports are powerful because they show a real sense of transparency between you and your team or you and your clients, which helps build important long-term relationships.
With BrightGauge, build your own reports, or get started with a report template. The Sophos report template shows Endpoint and Alert data for a given period of time.
Anytime you've got a question about Sophos + BrightGauge, please submit a support request or contact us and we'll be ready to help!
Free MSA Template
Whether you're planning your first managed services agreement, or you're ready to overhaul your existing version, we've got you covered!