BACK
Best Practices

|
Read
Actual Goals We're Tracking Right Now
Susan Perez March 5, 2019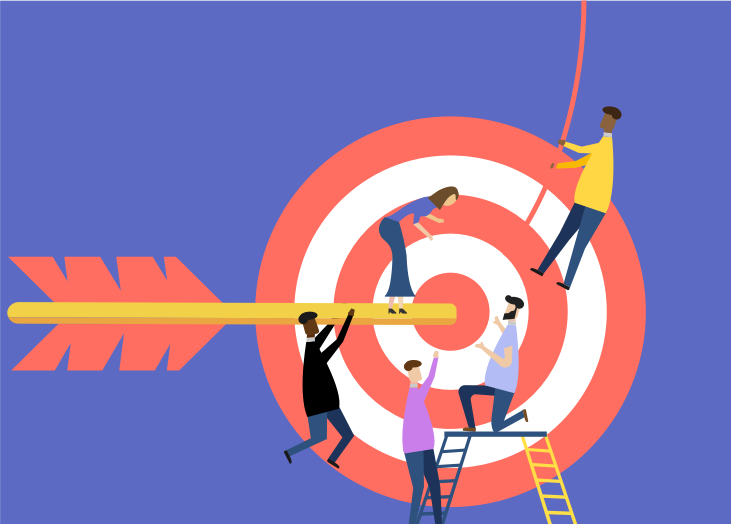 There are a handful of business strategies that serve to motivate and align employees in a powerful, palpable way. Our favorite: setting and tracking goals.
Goal-setting works because it gives employees a clearly defined target to work towards and removes any ambiguity around what they "should" be doing.
Plus, when goals are made visible to an entire company, it drives team members to feel accountable about meeting those goals because, let's face it, everyone likes to look good in front of their peers.
The tricky part about goals is knowing where to begin. How often should goals be set? What should goals be centered around? What if team members miss their goals?
All valid questions without black and white answers. It really depends on you. However, we know how much it helps to have examples as a reference.
Ahead, we'll cover the actual goals we're tracking this quarter, plus tips for setting your own.
This is how we do it
For us, setting and tracking goals on a quarterly basis works really well.
Focusing on a few goals each quarter helps us make steady progress towards the bigger picture. The idea is that every year is treated like a puzzle we are trying to complete. Quarterly goals make up the small pieces that eventually pull the entire puzzle together.
So, while we focus on small wins throughout the year, those goals ultimately help us achieve something grander.
In addition, we set company goals and departmental goals. Each person in each department gets assigned 3-4 goals to be accountable for. And, you guessed it, they all tie back to our company goals.
Not surprisingly, we use BrightGauge to track our goals. We do this for several reasons, including:
You can power goals through gauges you're already tracking

It keeps everybody's goals organized in one, accessible place

Week-to-week, we can add context to our goals to explain why we hit or missed our target that week

In the goals sheet, green boxes signal weeks where you're on track, while red boxes mean you were off-track that week; this makes it so easy to glance and quickly understand where there may be problems (i.e., someone's goal is too challenging/unrealistic or way too easy)

We get weekly email reminders to check into our goals, so it's easy to stay on track

We also get weekly email summaries of everybody's goal progress, so we can understand what our peers have been working on and accomplishing

If goals are unorganized or hard to stay on top of, team members will fail to see the value of setting them. So, it's quite important to make the process of goal-tracking simple, because we're already working hard to improve and meet our objectives.
This is what we're tracking
Naturally, our goals change from quarter-to-quarter, but they are always about improving and advancing our company's (and our individual) development.
We each have a mixture of process and outcome goals. The best way to understand the difference is an outcome goal is something like, "I want to lose 10 pounds this quarter", while a process goal is, "I want to walk 50,000 steps each week". Each process helps you meet the outcome.
Here are some actual goals we are currently tracking this quarter:
Company Goals
Hire a new Sales Development Rep

Increase the number of Qualified Inbound Leads

Launch Embeddable Gauges (yay, we met that one already!)

Go live with new integrations (we recently released Basecamp)
Sales Goals
Alanna: More than 150 dials per week

Allison: at least 55% of demos won per week

Felipe: schedule more than 50 demos this quarter
Support Goals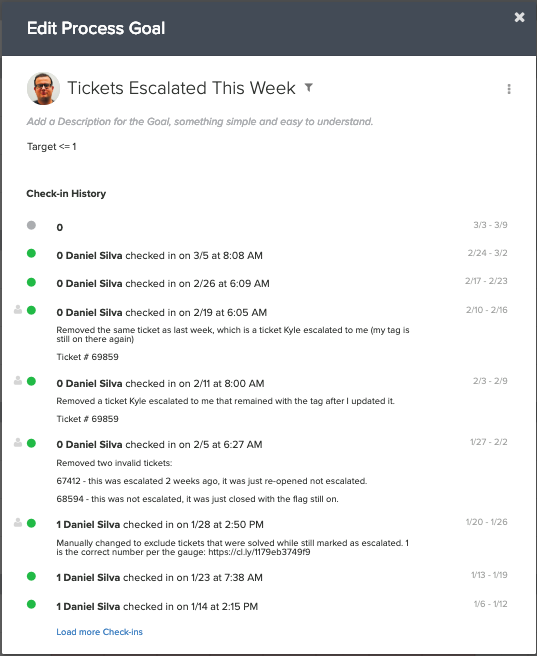 Danny: 1 ticket or less escalated per week

Kristian: Average response time at or below 30 minutes per week

Michael: Solve more than 1,500 tickets this quarter

Hector: Less than 5 negative CSAT reactions this quarter
Marketing Goals
Jack: Launch 3 new features pages on our site

Nat: Update 3 or more marketing resources

Susan: Publish 10 videos on our blog
In need of more inspiration? Check out 50 goal ideas for every member on your team.
What if we miss our goals?
It should be a realistic expectation that not every goal that is set will be reached. If that were the case, it would be more than likely that some pretty unchallenging goals were being set.
Goals should motivate us to strive, exit our comfort zones, improve upon ourselves, and learn something new. As long as we're growing, we're being successful.
If missing goals automatically classified us as failures, we'd be hard-pressed to ever strive for something seemingly out of our reach, which means we'd be pretty stagnant.
Of course, repeatedly missing every goal can be a problem, but it's important to put context around why a goal was hit or missed.
Was 70% of the goal achieved? That's awesome! Sounds like a lot of progress was made.
Did a new company goal get prioritized? If so, it makes sense that one's focus had to shift.
Reviewing goals really needs to be done on a case-by-case basis, but we're pretty strong believers in not tying performance reviews to goal outcomes.
By the way, at BrightGauge, we meet as a team at the end of each quarter to talk about our goal progress, but we only have formal reviews once a year.
Try setting your own goals
Hopefully, by sharing what goals we're currently tracking, we've sparked some interest in establishing a goal-setting strategy of your own.
If you're a BrightGauge user, it's really easy to get going. Here's a video that shows you how to set up goals.
Want to learn more? We'll be happy to take you through a live demo of BrightGauge. Just contact us today!
Free MSA Template
Whether you're planning your first managed services agreement, or you're ready to overhaul your existing version, we've got you covered!