BACK
Culture,

Customers,

Service

|
Read
Empowering Your Customers' Success
Danielle Ungermann April 10, 2018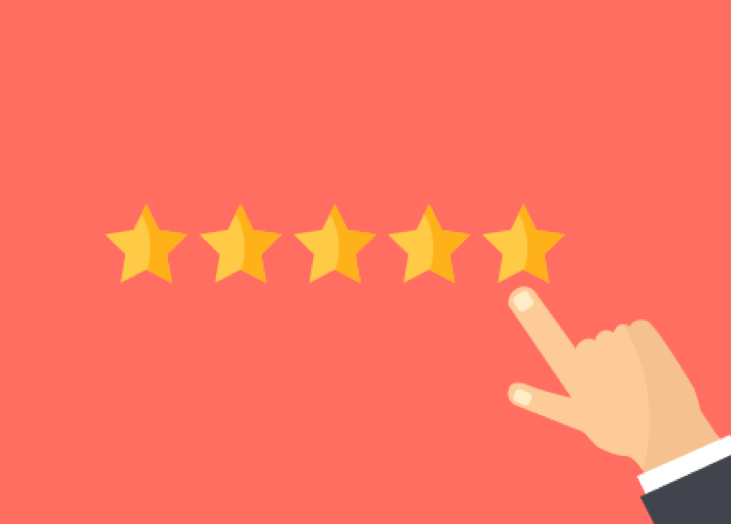 We're big believers in setting the right expectations from the start. That's why we've gone all in on Customer Success at BrightGauge, and why we believe in doing the same for each of our new team members. Whether it's onboarding a new customer or coworker, we want you to know we're with you each step of the way, thinking of your needs before you even get here.
Set for Success
When you join the BrightGauge team, we try to help you feel a part of the team before the first week is up. As mentioned in our previous post, some of the things we do to help new team members settle in are:
Send paperwork in advance of your first day

Put out your favorite snacks to enjoy

Deck out your desk with all the equipment you could possibly need

Lead you through our origin story and important docs with a series of read-me's & walk-and-talks with every member of the team
Those are just some of the smaller details. What really matters is that our new team members know their wellbeing is truly important to us. We want everyone to "Never regret a Monday". We also know building a great product is a true team sport. Without prioritizing your own team members first, how can you expect them to feel happy enough to take care of your customers with empathy?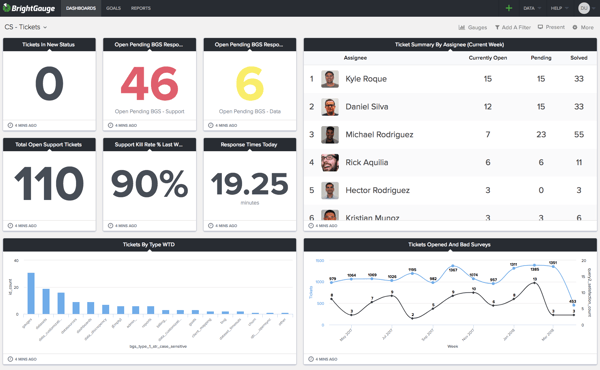 Empowering your team
Zeroing in on our Customer Success team, they're the first line of communication between customers and the rest of our company. At BrightGauge, our Customer Success team covers not only our support queue, but also helps each customer find their own success as they build their BrightGauge.
To help them do an even better job, our team tracks their progress in real-time through the help of BrightGauge and Zendesk. We're able to see Open Tickets by each team member, see the trending numbers for tickets open vs bad surveys, and where our Kill Rate stands for that last week. This helps us see where we can improve and where we're getting it right.
Measure the right data and you'll find your success will begin trickling down into everything you do. Through keeping a constant check on the pulse of your work, you and your team members will be encouraged to keep up the good work and feel empowered to improve the customer experience.
Success KPIs
CSAT — Short for Customer Satisfaction Score, CSAT is an easy way to measure customer satisfaction over the lifecycle of their account with you. To calculate it, we look at average response time over a selected time period. This score is especially great when looking at key moments in your customer's journey, like when they have just signed up or have added on additional services. The six-month mark is when you get into the sweet spot of being able to identify trends.
NPS score — Your NPS score, or Net Promoter Score, measures how likely your customer is to refer you or one of your services to a peer. This customer satisfaction metric measures by passive, promoter, and negative responses for you to determine the overall ranking of where your company stands. Measuring this is especially useful for understanding customer loyalty and setting the pace for future referral marketing initiatives.
First response time — Nobody likes to wait. If your customers feel it's taking too long for you to get back to their question, no matter how complex it may be, they'll inevitably begin looking elsewhere. That's why first response time is a good gauge of customer satisfaction.
We've stacked up our Customer Success team to ensure wait times are limited and satisfaction is on the rise. To give yours a boost, either hire more personnel or look at where you can cut your response times down a bit with shortcuts. We use Zendesk macros and custom explainer videos to help send our reply to your desk as quickly as possible, while still keeping it human. Keep in mind most customers prefer a quick reply over a lengthy, more detailed one.
Customer Retention Rate — Simply put, this measures customers who are sticking around vs those who have churned. To calculate your Customer Retention Rate, measure:
((# of customers at end of period – # of customers acquired) / # of customers at the start of period)) x 100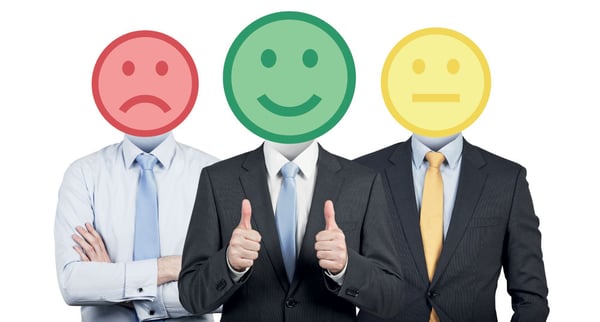 Measure with the right tools
You don't have to be a mind reader or a math whiz to set up your customer success KPIs. With the help of the right tools, you'll be able to gauge your overall customer satisfaction and an important part of your company's health.
SmileBack —With the help of its negative-neutral-positive reactions, SmileBack improves the customer experience by helping you learn more about your customers through feedback and key alerts.
Crewhu — Boasted for its employee recognition tools, Crewhu helps improve employee performance through social network-like peer recognition. Paired with BrightGauge, Crewhu shows you your average survey rating while providing that much need context to make improvements.
Customer Thermometer — Measure CSAT, account temperatures, your NPS score, satisfaction ratings, and other KPIs with Customer Thermometer, a one-click email feedback tool.
Freshdesk — A helpdesk focused around setting up smart automations to help you clear the support queue even faster than you can say Swiss Family Robinson.
Zendesk — One of the top customer service and support softwares around. With many built-in integrations, they aim to help you boost response times and gauge customer happiness.
Don't see what you use here? We'd like to hear what software we should integrate with next. Reach out to our support team with your request.
What you can't get from data alone
The steps you take to define your team's success will set the foundation for your customers' success. By putting data as a priority, you're putting your customer first. It's not enough though to simply measure for success, you have to instill it in your team from day one. We're not just here to punch a time card. We're all a little human, looking to connect with the work we do and the people we do it with. If your employees aren't satisfied with their job, that'll surely show in the work they do.
Read our whitepaper Driving Accountability within your Organization for more tips on setting up your team for success.
Free MSA Template
Whether you're planning your first managed services agreement, or you're ready to overhaul your existing version, we've got you covered!