BACK
Best Practices

|
Read
Goal Management Software That Drives Business Growth
Susan Perez April 22, 2020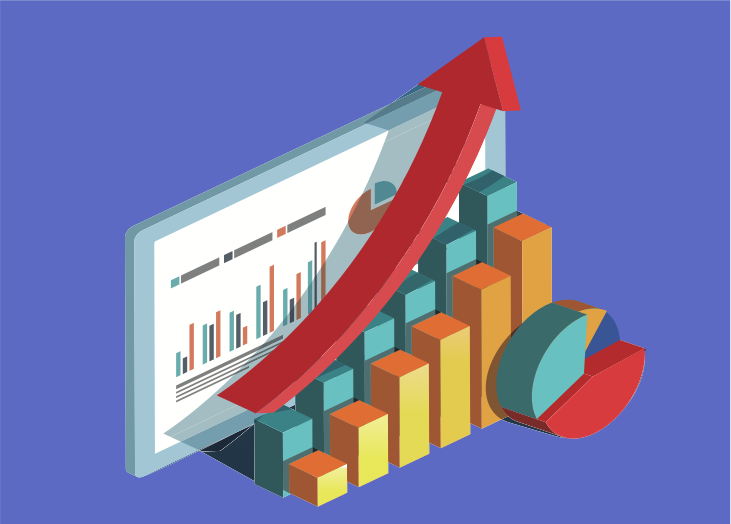 As a business leader, goal tracking is likely a cornerstone of your employee management strategy. Goal management is an important way to align your team members and ensure that you've got an entire organization driven by shared key performance indicators (KPIs).
In the era of COVID-19 and remote work, the importance of goal setting and tracking is becoming increasingly evident.
Let's face it - managing an entire remote team has its challenges. There are no face-to-face interactions or watercooler moments to rely on that perhaps once served as a casual "what are you up to?" check-in.
While it's necessary to keep employees engaged and productive, no one wants to be micromanaged (or be a micromanager for that matter). But we still want to grow our businesses and keep our employees motivated, so goal tracking remains a priority.
The key to implementing goals that will drive business growth is to use an employee goal setting software like BrightGauge to automate that process for you. Before diving into what goal management software can do for your business, let's explore the necessity of goals a bit more.
Types of goals
Generally, there are two categories of goals you can assign to your employees: outcome goals and process goals. These two are often intertwined, but the way you measure each is different.
An outcome goal is the end result that you'd like to achieve, while a process goal refers to the steps you need to take to achieve your outcome.
We like to use a very simple example to help visualize this. Let's say you want to lose some weight. Your outcome goal would be "lose 5 pounds this year". Your process goal would be "walk 10,000 steps per day".
With both goals, you can easily measure your progress, and achievement of your outcome goal is dependent upon your process goal performance. Each week (or other determined cadence), you can track and mark progress of each goal. For your outcome goal, you can mark whether you lost or gained weight and how much. And for your process goal, you can track the actual steps you completed each day.
So, how does this translate to a managed service provider (MSP)?
An example is the desire to improve your organization's monthly recurring revenue (MRR). You might set an outcome goal to increase your MRR by a certain percentage (increase 5% year-over-year) or to reach a specific number (MRR of $10,000). In order to achieve that outcome, your process goal may be to close X number of new accounts per month, or have your sales representatives increase their outbounding efforts by X% per month.
We've found that a healthy mix of both outcome and process goals works well.
Why you need business goals
Assuming that everyone is on the same page and is aware of the desired direction of the organization is just risky business. Accountability measures need to exist to help decision makers evaluate whether everyone is pulling their own weight and charting the right course.
If you can't truly measure performance and progress, how are you analyzing the various areas of your business? How can you tell if you're growing year over year?
Sure, comparing revenue and profit can be telling, but that only paints a partial picture. If you're bringing in more revenue during a certain period of time, what can you attribute those gains to? How will you know which business tactics were successful and worth replicating?
Taking it one step further, who can you attribute successful results to? Is there someone that's in need of a merit increase? Or perhaps a technician on your team that can benefit from more training?
Goal tracking is a powerful way to get answers to all these questions.
Not only does it serve to align every person in the company, but goal management also helps business owners carve out a path towards success that makes sense. Goals are like stepping stones that act as a guide without being overwhelming. By focusing on one goal at a time, you can eventually reach your desired outcomes at a pace that's more easily trackable.
Goal management helps you grow your business in a smart, deliberate way. Your team members will know what tasks to focus on and prioritize, they will be held accountable to their actions, and you will have the right data to back future decisions.
How to set business goals
When you adopt a goal-setting strategy, it's important that it's implemented from the top-down. Everyone in the company should be setting and tracking goals.
While each goal should tie back to one big, desired outcome, each member of the team should have a different set of goals to work towards. This way, goals are relevant to each person's role and every team member contributes to the greater good in their own way.
As you set and implement the KPIs that are important to your bottom line, use these to drive your goals. Goals and KPIs should tie into one another and ensure that your business decisions are based on factual data.
A good rule of thumb is to set SMART goals - Specific, Measurable, Attainable, Relevant, and Timely. Goals should be challenging, but they shouldn't be so difficult that they end up overwhelming the goal owner to the point where they feel unmotivated and like they'll never reach the outcome.
In our experience, starting off with quarterly goals is an effective way to get this process up and running. At the end of each quarter, performance and progress can be assessed and strategies can be tweaked to better represent your final goal. On the flip side, if you start off with a longer-term commitment like an annual goal, it may be more difficult to stay the course.
Whatever approach you take, analyze and iterate often to make the goal management process match the flow of your organization and working style.
A few other tips to keep in mind:
It's always good to turn to your peers and colleagues for goal ideas - this absolutely should be a collaborative process
Allow for an adjustment period - adopting a new goal-setting strategy means you're implementing a new process, so the ramp-up period might take a bit
Establish regular check-ins to discuss goal progress and performance, whether through 1:1 meetings with direct reports or other method (BrightGauge has a very simple and automated check-in process)
Don't tie performance reviews to goals - the main takeaway here is that goal performance is not black or white; promotions or salary bumps shouldn't be based solely on whether a goal was hit or missed
How to track business goals with BrightGauge
Many know BrightGauge for its dashboard and reporting capabilities, which for years have been helping partners organize their data and make meaningful business decisions. Now, as we've shifted to remote work, people are turning to their dashboards even more than ever to help their teams work efficiently.
You may not be aware that BrightGauge is also a goal management software with a proprietary goal-setting and tracking system that's a great way to enforce accountability amongst your teams, so everyone can focus on growing the business.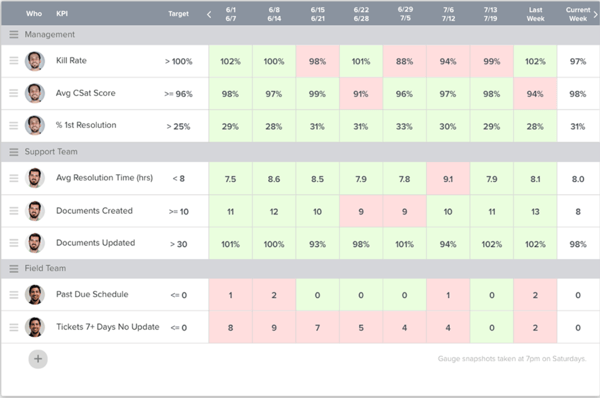 With BrightGauge goals, you can set and track goals for each member of the team in a scorecard-like grid. Team members get a weekly reminder via email to check into their goal, which means they mark whether they're on- or off-track and fill in any necessary context. The corresponding square for that week will turn either green or red depending on progress, making it a very simple and visual way to see how your team is performing at a glance.
Goals can be shared company-wide, not just team-wide, which really motivates everybody to be accountable to their tasks and work productively to achieve the desired shared outcome.
Some partners have told us that once they've adopted BrightGauge's goal management software, it's quickly become their favorite feature and they can't imagine doing business without it.
To chat more about how goal management software can drive business growth, contact us and we'll happily show you BrightGauge in action.
For more on goals, check out our whitepaper, The Right Way to Set Business Goals.
Free MSA Template
Whether you're planning your first managed services agreement, or you're ready to overhaul your existing version, we've got you covered!