BACK
Product

|
Read
What's New: Recent Integrations
Susan Perez November 21, 2019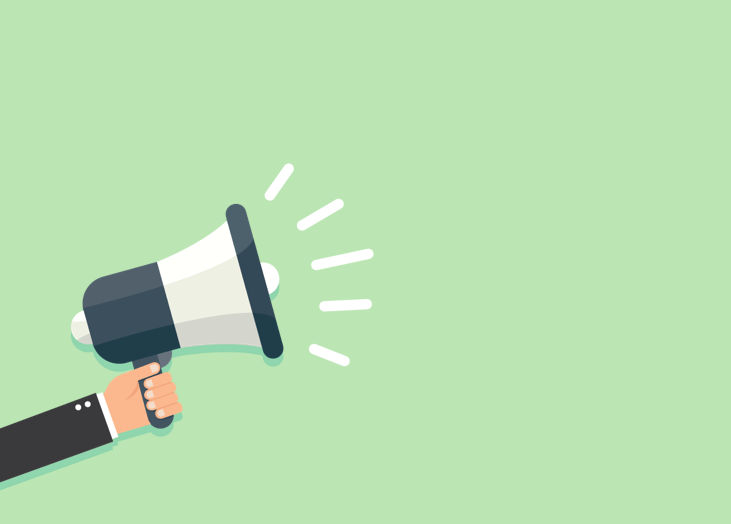 In the last few months, we've added several new datasources to our stack, and here's what you need to know!
Now available to our customers: Liongard Roar, Solarwinds N-Central (previously N-Able), Simplesat, and PRTG. Keep reading for details on these integrations, which you can connect to at any time.
Liongard Roar
Liongard Roar is a documentation system that was specifically built for MSPs. Having important docs and processes documented is great for establishing accountability and understanding what actions took place when.
For customers using Liongard Roar, integrating with BrightGauge provides a lot of flexibility in terms of the metrics and KPIs you can pull.
There are several datasets customers can report on, including users, environments, agents, detections, timeline, and metrics. Within the metrics dataset, users can easily create custom metrics and report on Office 365 and Active Directory data. Lots of you have been asking for this, so we're thrilled to make it available.
The Liongard Roar integration comes with 56 default KPIs, two pre-built dashboards, and two report templates, conveniently categorized by Office 365 or Active Directory.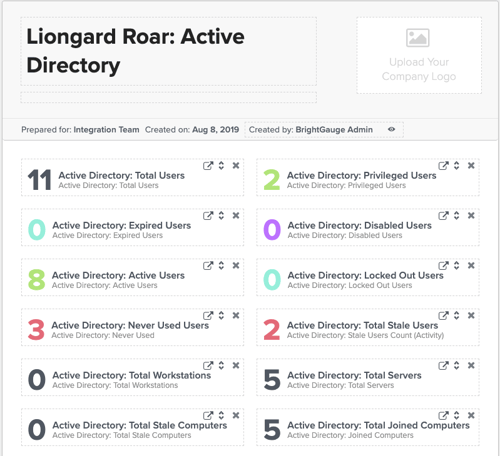 To add Liongard Roar to your account, please follow the steps outlined in our support document.
Solarwinds N-Central
Formerly known as N-Able, we're happy to report that Solarwinds N-Central is live. This RMM platform allows users to keep an eye on pertinent machine metrics. Paired with BrightGauge, users get real-time visibility into those metrics and are alerted to issues before they become any bigger. Plus, customizable, automated reports help customers prove their value to clients and show why they are trusted partners.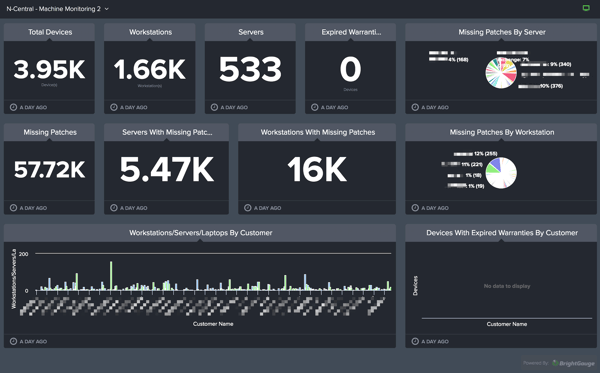 Customers using the N-Central integration in BrightGauge are going to get 83 default KPIs right off the bat, pertaining to Devices, Servers, and Workstations. The integration also comes with 2 pre-built Machine Monitoring dashboards, and 2 Machine Monitoring report templates.
This support doc guides you through the quick process of adding N-Central to your BrightGauge.
Simplesat
We're excited to introduce yet another CSAT tool to our stack, as CSAT is at the forefront of metrics that business owners want to stay on top of. Simplesat was designed for small to medium sized MSPs and tech companies, and is a simple way to embed CSAT surveys into email signatures or helpdesks.
Integrating BrightGauge + Simplesat allows you to see customer information, specifically how they rated, scored, and answered Simplesat questions.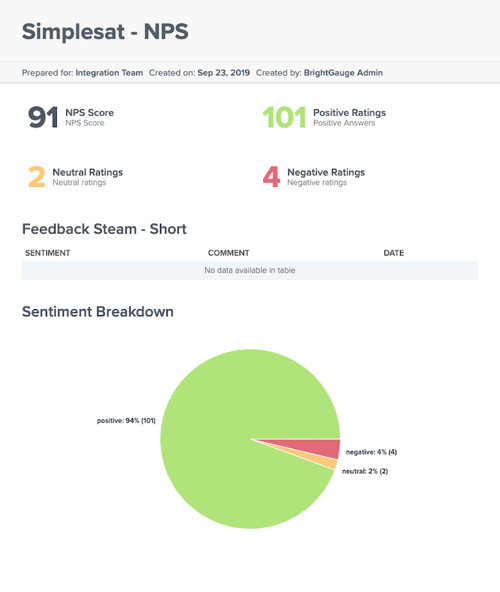 The ever important Net Promoter Score (NPS) is one of 19 default KPIs that are automatically included in this integration. There are also 2 built-out dashboards and reports each, one for CSAT scores and one for NPS.
Follow these steps to add Simplesat to your BrightGauge account.
PRTG
Finally, we recently rolled out an integration with PRTG, a network monitoring tool. When you connect it with BrightGauge, you can easily keep track of metrics like sensor data, stale tickets, uptime, and active/inactive devices.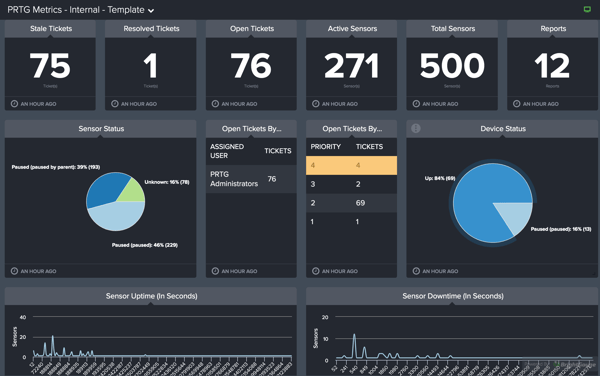 The PRTG + BrightGauge integration comes with 27 default KPIs, one pre-built dashboard, and one report template.
The kind of visibility you get with BrightGauge + PRTG allows you to stay proactive and keep the networks you monitor up and running.
Adding this datasource to your account is easy - just follow these quick steps.
For questions about any of our datasources or to chat with somebody about your BrightGauge account, contact us today. We're always happy to talk shop!
Free MSA Template
Whether you're planning your first managed services agreement, or you're ready to overhaul your existing version, we've got you covered!