BACK
Best Practices

|
Read
8 Tips for Effective Dashboard Reporting
Susan Perez April 2, 2020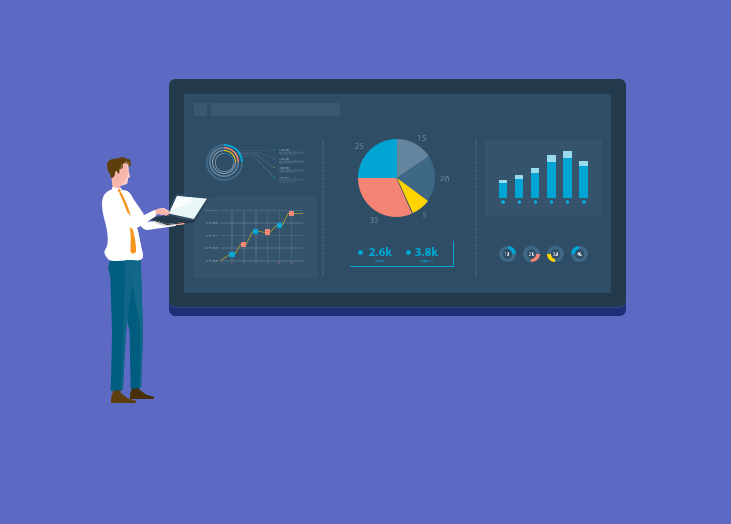 Once you've got your managed service provider (MSP) business up and running, you'll probably start strategizing ways to grow that business. Something every business owner or manager wishes for is more time to do so. Imagine what could be accomplished with more hours in a day!
While we've all got to work with the 24 hours we have, there are ways to free up time to focus on revenue generating tasks. By automating parts of your business that already run like a well-oiled machine, you can buy some of your own time back and move forward with growth opportunities. This can help your business develop a valuable competitive advantage.
One smart and powerful way to practice business automation is to use dashboard reporting. Dashboard reporting can make the process of monitoring metrics and tracking data easier than ever before so you can stop manually crunching numbers and start focusing on your big-picture business strategy.
What is the Purpose of Dashboard Reporting?
Dashboard reporting allows you to track and take action on metrics and data that are imperative to your company's bottom line.
We've heard from MSPs who spend too much time each week compiling their data into meaningful reports —sometimes, upwards of 8-10 hours per week. That's one entire workday of logging into multiple accounts, toggling between windows, pulling data into an Excel spreadsheet, and analyzing that data to find any compelling trends or indicators that drive your decisions. Sound familiar? We thought it might. The good news? There's a different way to do things.
With dashboard reporting, the process of gathering data is automated, making it an easy and efficient way to buy back a big chunk of time.
Perhaps an even stronger argument for dashboard reporting is the effect it can have on internal and external relationships.
Long-term, trustworthy relationships that result in employee loyalty and repeat business stem from being honest, unbiased, and transparent. Transparency means being open about the reality of your situation, whether it's good or bad. When you act as an open book and report on actual data, you become a credible and reliable source of information, which everyone can appreciate.
A dashboard report is also a professional and easily digestible way to show a clear snapshot of your business. How?
Let's say you're responsible for your client's 25 endpoints. Every week, you may share with your client a dashboard report that shows the patch status of each endpoint, which machines are set to expire soon, and how many threats you mitigated in the previous week. This is an excellent way to prove your value as a partner, while keeping your client looped in on their investments.
Other dashboard reporting examples are a sales dashboard showing your team's active and won opportunities, a support dashboard reporting on ticket statistics, a customer satisfaction dashboard telling your clients how others are rating you, a finance dashboard providing a quick look at the health and profitability of your company, and so on.
Regardless of the metrics chosen for a dashboard report, its purpose will always lie in allowing you to refocus your priorities while strengthening the basis of your client and team relationships. This means dashboard reporting can add value to any business—no matter your location, size, or industry.
What Makes a Good KPI Dashboard?
Understanding why to use dashboard reporting is only the first step. Next is determining what the right key performance indicators (KPI) are to make your dashboard a strong one. This will vary by department and by the overall goals of your company, but there are some consistencies across the board.
For effective dashboard reporting, think quality over quantity. With a dashboard, you have one screen to paint your picture. Anyone looking at that screen should be able to quickly and easily digest the information. Overloading your dashboard would muddy the message you're trying to convey and lead to confusion and a lack of clarity.
You really want to prioritize the right KPIs for your dashboard report. Choose the ones that tell your data story in the most compelling way. What are the KPIs that are most meaningful to your bottom line? What would the person receiving the report care about seeing?
It's easy to get attached to data and feel like it's all important, especially when you're trying to prove your value to your clients, but this really is a case when less is more!
KPIs should align with overall company goals and serve as a north star. Not only does this help guide a company towards success, but it gets everyone in the organization on the same page. Different teams have their own goals to work towards, but everyone's ultimate mission is to see the organization succeed, and KPIs are a clear way to unify everybody.
In general, all businesses are looking to evaluate performance in the areas of finance, customers, sales, marketing, operations, and within their own internal teams. Knowing this, your dashboard reports will likely have a healthy mix of KPIs from those business segments.
Here are some KPI examples to include in dashboards:
Finance
Debt-to-Asset Ratio
Return on Investment (ROI)
Net Profit Margin
Customers
Customer Satisfaction
Net Promoter Score
Sales
Monthly Recurring Revenue
Age of Opportunity
Quote to Close
Marketing
Cost Per Lead
Market Growth Rate
Conversion Rate
Operations
Effective Hourly Rate
Service Level Agreements (SLAs)
Time to Resolution
Internal Teams
Revenue Per Employee
Employee Churn Rate
Employee Satisfaction
8 Effective Dashboard Management Tips
Regardless of the type of dashboard reports you're producing, here are 8 tips you can follow to ensure you're staying organized, productive, and efficient:
Make sure your data is relevant. Think about who is receiving your dashboard report or viewing your dashboard. Display only those metrics that would make the most sense for that recipient. Additionally, if you categorize your dashboards by team or topic, don't include any metrics that may seem out of place.
Use strategic metrics. This goes back to what we discussed earlier. Be strategic in what you choose (quality over quantity) and make sure the metrics you're tracking align with your strategy for success. Use compelling data that influences business decisions in a positive way so that you're set up to succeed.
Choose metrics that are measurable. Ever heard of SMART goals? That is, goals that are Specific, Measurable, Attainable, Relevant, and Timely. By creating SMART goals, you can effectively measure your performance against benchmarks you've set so that you objectively know whether you're on or off track. After all, if you can't measure it, you can't manage it.
Keep your dashboards clean. Do yourself a favor and stay organized. Just like cluttered workspaces can be detrimental to your productivity, so can a cluttered dashboard. If looking at your dashboards causes you any sort of anxiety, your recipients are probably feeling the same. Choose the least amount of metrics needed to completely tell your story and you should be in a good place.
Track data that you can take action on. Data is awesome and powerful, but it can only take you so far. What you choose to do with that data is what really matters. Focus on data that can influence your processes, hiring decisions, SLAs, annual goals, and so on. If you have a piece of data as an FYI, but can't really act upon it, ask yourself if it's worth tracking.
Take the 'at-a-glance' test. Once you've got your dashboard reporting template in place, take a quick glance and see what you're able to glean from it in those couple minutes. Are you visually representing your data in a way that's easy to digest? Are you using colors, bar graphs, and pie charts that get the message across pretty quickly and clearly? Avoid clumps of texts and numbers and use graphics when possible.
Group your metrics into a nice grid. People like symmetry and organization and tend to gravitate towards clean lines that bring a sense of calm. Organize your dashboards as such. Different dashboard reporting tools allow you to modify and resize your buckets to your liking so that your dashboard is designed to your taste. Group relevant metrics together (like tickets closed beside tickets opened) so that your dashboard report is easy to read.
Use dashboard filters. BrightGauge is a dashboard reporting tool that allows you to add dashboard filters to your reports. This can save you a ton of time. For example, let's say you're a service desk manager who wants to send a report to each of your individual technicians, specific to their projects. You can create one dashboard reporting template and then create a dashboard filter that only returns data specific to that individual (so, Rick's dashboard, Alex's dashboard, Sam's dashboard, etc.). In BrightGauge, you'd simply toggle on the dashboard filter for the individual you're looking for and that's it.
Experience Effective Dashboard Reporting with BrightGauge
There are different dashboard reporting tools out there that can help you create meaningful reports. Whichever you use, remember to employ these dashboard reporting best practices so you can make the most out of the data you're tracking.
Especially in these unprecedented times, when the entire globe is fighting COVID-19 and adapting to remote work, dashboard reports can help managers stay on top of teams and can make client-partner relationships even more united.
To learn more about how BrightGauge can help you make faster, stronger, more informed decisions based on data, schedule a live one-on-one demo with us today.
Free MSA Template
Whether you're planning your first managed services agreement, or you're ready to overhaul your existing version, we've got you covered!