BACK
Best Practices

|
Read
A Quick Guide to 11 Types of KPIs
Amanda McCluney July 23, 2020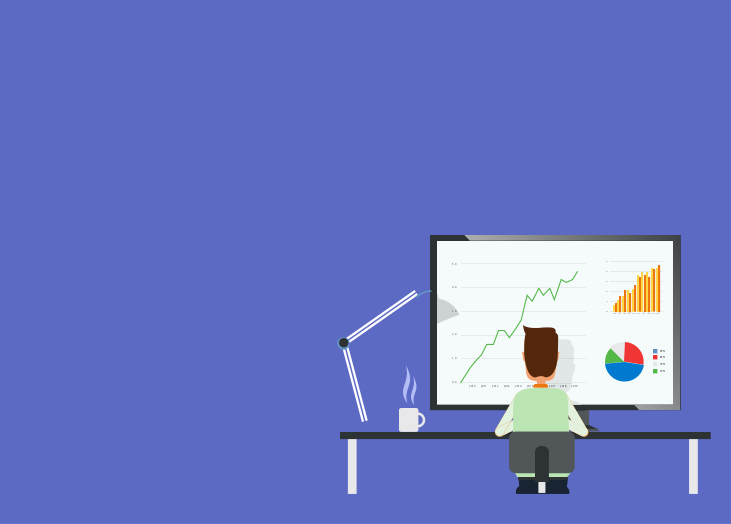 *This post was originally published on June 1, 2017 and has been updated.
How do you analyze the health and success of your business? Choosing the right key performance indicators (KPIs) is critical for measuring effectiveness financially and operationally. However, while most business owners know the importance of proper KPI selections, they don't often know the difference between the various types of KPIs.
Having a solid understanding of the different KPI types helps to ensure that you have your bases covered. It provides a well-rounded approach that allows you to evaluate the past, present, and future of all areas of your business. Knowing how to classify your KPIs can help you to expand upon the tracking of specific metrics and give you a deeper, more thorough look into your business and its performance.
Let's break down the 11 most-used types of KPIs:
1. Quantitative Indicators
Quantitative indicators are the most straight-forward of KPIs. In short, they are measured solely by a number. There are two types of quantitative indicators - continuous and discrete. Continuous quantitative indicators can take any value (including decimals) over a range. Discrete quantitative measures include things like complaints, accidents, and rating scales. Examples of quantitative measurements include measurements of time, dollars and cents, and weight.
2. Qualitative Indicators
Qualitative indicators are not measured by numbers. Typically, a qualitative KPI is a characteristic of a process or business decision. Examples of qualitative KPIs include opinions, properties, and traits. A common qualitative indicator that organizations regularly use would be an employee satisfaction survey. While some of the survey data would be considered quantitative, the measures themselves are based on the opinion of a person. Qualitative focuses more on the "why" as opposed to the "how."
3. Leading Indicators
Leading indicators are used to predict the outcome of a change in a process and confirm long-term trends in data. In a survey of several fortune 500 companies around the metrics that they use as leading indicators, 3M Corp, a mining and manufacturing company, supplied these answers:
Number of new patents
Number of new innovations
Customer service perception
These are great examples of leading indicators. While in and of themselves they are not standalone indicators of success, they are indicative of success in other metrics and serve as an excellent indicator of success in their initiatives.
4. Lagging Indicators
Lagging indicators are used to measure results at the end of a time period to reflect upon the success or failure of an initiative. Often, they are used to gauge historical performance. Some examples of lagging indicators include total customer contacts or total incidents. Lagging indicators give businesses the ability to evaluate the effectiveness of their business decisions and determine whether their business decisions facilitated the desired outcome.
5. Input Indicators
Input indicators are used to measure resources used during a business process. Some examples of input indicators include staff time, cash on hand, or equipment. Input indicators are necessary for tracking resource efficiency in large projects with a lot of moving parts, but are also useful in projects of all sizes.
6. Process Indicators
Process indicators are used specifically to gauge the efficiency of a process and facilitate helpful changes. A very common process indicator for support teams are KPIs focused around customer support tickets. Tickets resolved, tickets opened, and average resolution times are all process indicators that shed light on the customer support process. In this example, that data can be used to influence changes in the support process to improve performance.
7. Output Indicators
Output indicators measure the success or failure of a process or business activity. Output indicators are one of the most used KPI-types. Examples of output KPIs include revenues, profits, or new customers acquired.
8. Practical Indicators
Practical indicators take into account existing company processes and explore the effects of those processes on the company. For this reason, many practical indicators may be unique to your company or work processes.
9. Directional Indicators
Directional indicators evaluate specific trends within a company. Where are the metrics moving? Are they improving, declining, or maintaining? An example of a directional metric used by many service providers would be Time on Site. This metric is used to measure the time that techs spend on-site fixing issues and troubleshooting problems. Ideally, most companies would like to lower their average Time on Site, as it is indicative of a faster, more effective service. Broad directional indicators can be used to evaluate your company's position within your industry relative to competitors.
10. Actionable Indicators
Actionable indicators measure and reflect a company's commitment and effectiveness in implementing business changes. Those changes could be within business processes, company culture, or political action. These metrics are used to determine how well a company is able to enact their desired changes within specified time-frames.
11. Financial Indicators
Financial indicators are the measurement of economic stability, growth, and business viability. Some of the most common financial KPIs include gross profit margin, net profit, aging accounts receivable and asset ratios. Financial indicators provide straight-forward insight into the financial health of a company but must be paired with the other KPI-types mentioned in this article to provide a complete picture.
Conclusion
Here at BrightGauge, we work closely with our clients to drive business growth by using KPIs and advanced metrics. Understanding the different types of KPIs can help teams to design a well-rounded evaluation system that boosts profits and improves business processes.
Want to learn more about growing your business by tracking effective KPIs?
Click Here to download our free Whitepaper, "How to Improve Your Business with KPIs."
*Amanda McCluney was a BrightGauge employee through 2017.
Free MSA Template
Whether you're planning your first managed services agreement, or you're ready to overhaul your existing version, we've got you covered!