BACK
Best Practices

|
Read
Top Finance Team KPIs
Susan Perez August 19, 2020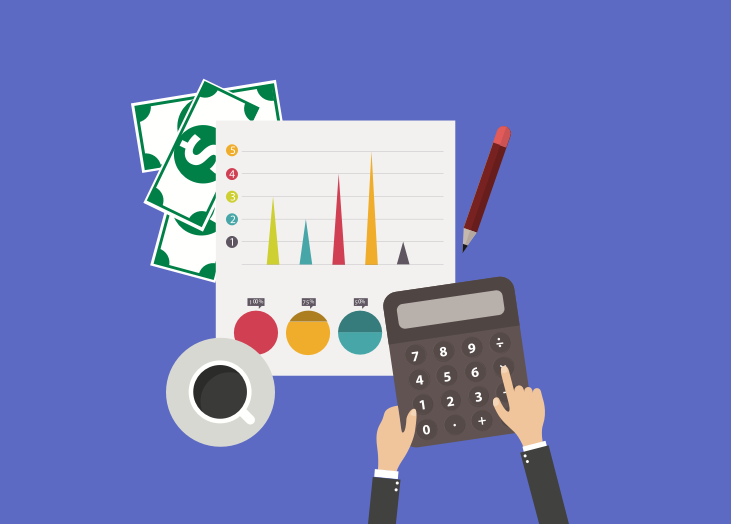 Knowing where your company stands financially can give you a whole lot of insight into your business. It'll tell you whether you're profitable, whether you can hire additional resources, if you're growing or not, which areas of your business you need to invest in, how much debt you are in, and so on.
Obviously, this is incredibly important and useful data to know, and it's not just about having the right numbers, but also interpreting those numbers in the right way.
Every department in an organization is going to have a set of unique metrics that relate to their goals and efforts. We've recommended top key performance indicators (KPIs) for your Project Team, Service Team, and Sales Team.
When it comes to your Finance Team KPIs, we believe there are four you should be keeping track of.
Top Finance Team KPIs
It's true that our list of metrics to track is not a complete list. You're going to want to have a holistic view of your finances, which may include several additional metrics other than the ones listed below. However, we think these four should never be left out.
Cash in Bank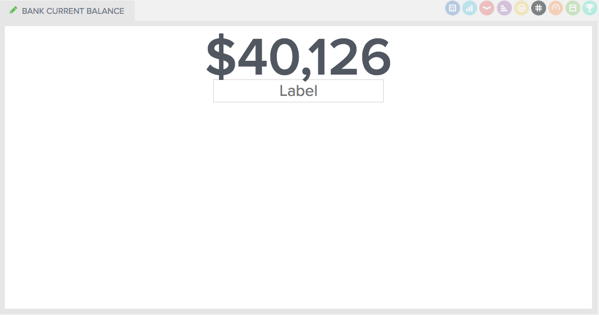 This number quite simply tells you how much cash flow you have on hand. It's important to know that because if you ever find yourself in an unexpected situation, you'll know how to handle it without getting into deep financial trouble.
Past Due Receivables Amount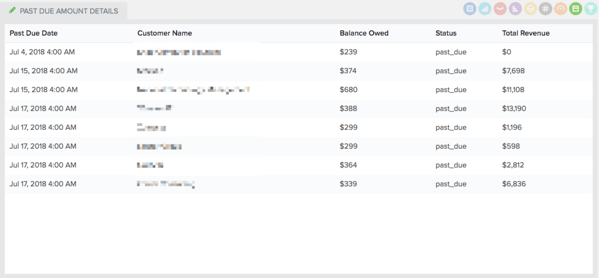 Accounts Receivable is an important one because it tells you how much payment you're expecting to receive from clients within the next 30 days (or other given time period). Being aware of which accounts are past due will help you reconcile with your clients and ensure that you're getting the payment you're due for.
Client Efficiency Index (CEI)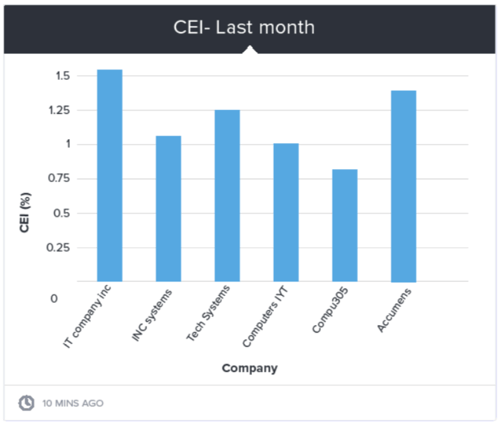 The CEI is actually a metric that we created internally to give our teams an idea of overall company performance as it relates to each customer base. You can set an internal benchmark for your CEI (ours is 60%) and it will give you an idea of which customer accounts need to be addressed versus which are in your normal threshold.
To calculate CEI, you'll need to gather your total revenue by client, all direct costs (like licenses, software costs, etc), and your fully loaded labor cost per account. The formula for each client account is broken into two parts:
(Total Revenue - Direct Costs - Fully Loaded Labor Cost) / Total Revenue = Gross Margin Per Client
Gross Margin Per Client + 40% = CEI

(adding 40 percentage points normalizes the metric to 100%)
EBITDA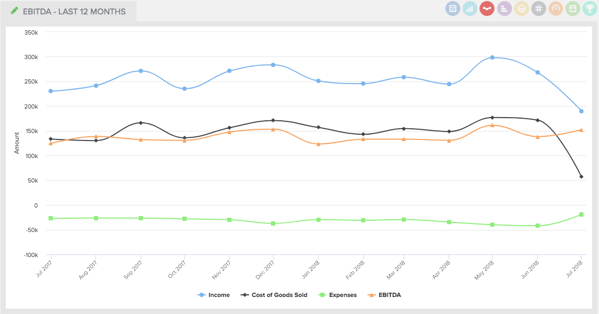 You likely know this one, but this metric gives you a clear idea of your organization's profitability and financial health. EBITDA stands for Earnings Before Interest, Taxes, Depreciation, and Amortization. Lots of companies use this metric to determine employee bonuses and raises for the year, so keep an eye on it.
An easy way to view your metrics
Wouldn't it be great if you could have visibility into your financial picture at any given time instead of waiting for your accounting team to send you a report once a month? BrightGauge makes it really easy to do just that.
Our software integrates with many popular tools on the market, like Quickbooks and Xero, and it pulls important data from those tools and puts it on a dashboard for everybody to see. Your dashboards are comprised of various gauges, so you have the freedom to create one dashboard that shows your cash flow, CEI, EBITDA, and any other metrics you care about.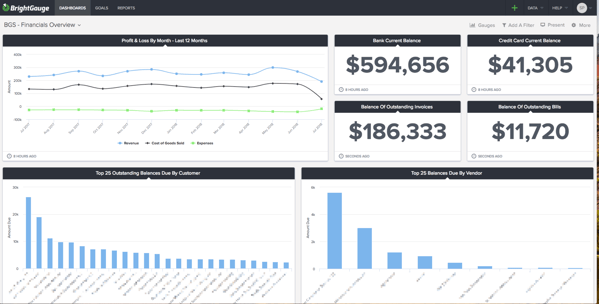 BrightGauge dashboards sync often, so you'll be looking at real-time data anytime you glance at your screen. We like to recommend that you display your dashboards on flat TV screens around your office so that all employees have visibility into your key KPIs at all times.
Other BrightGauge features include the ability to send custom, interactive reports to your clients or your internal teams as a way to build trust and transparency, and the functionality to set and track individual employee goals, which sets a precedent for accountability and motivation.
If you're ready to see how BrightGauge can help you run a better and more efficient business, schedule a live one-on-one demo today.
Free MSA Template
Whether you're planning your first managed services agreement, or you're ready to overhaul your existing version, we've got you covered!