BACK
Best Practices

|
Read
How to Use Dashboards for Customer Success Reporting (+ KPIs to Track)
Susan Perez May 5, 2021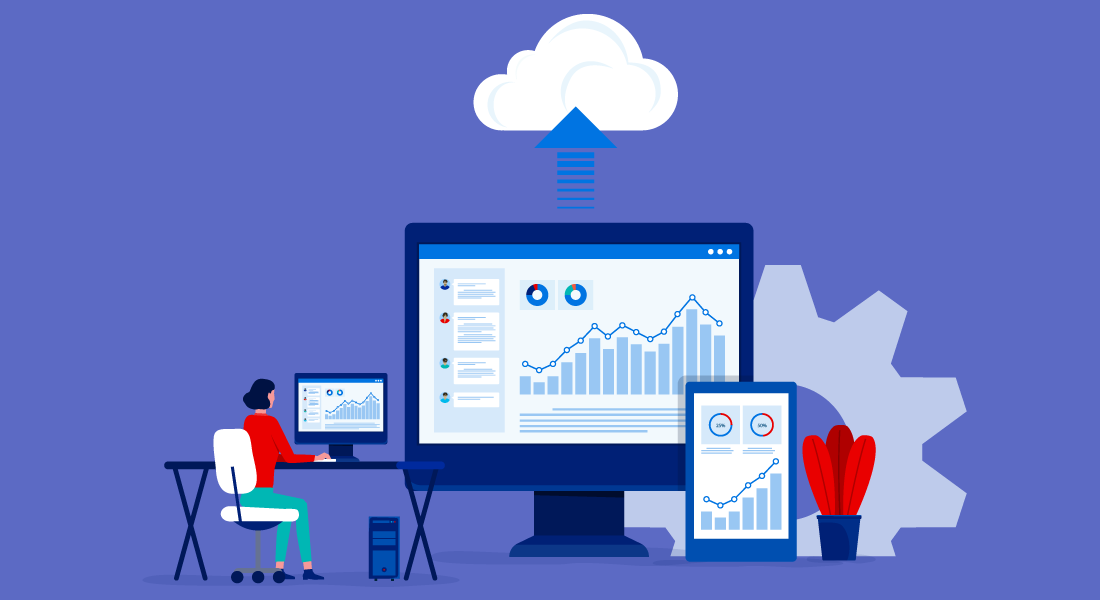 Definitions, in essence, are parameters. They are the boundaries of understanding, often as it relates to a single word. As discussed in a recent blog on customer success teams, how we use language matters. How we define service vs. success is a significant part of the relationships we build with our customers. So, when considering what customer success means, we need a way to gauge, define, and track that definition.
Customer success aligns the success of our clients with the success of our organization. However, it's not enough to establish a vague goal of finding the ways in which our goals sync up with those of our customers. As we all know, customers want something concrete. They want evidence and data that supports and often financially justifies their relationship with an organization. One great way to do that is to utilize customer success dashboards to track the success of those objectives.

Quick Links
What is customer success?
Customer success offers an alternative view to customer service. In the past, many businesses focused on the functions, products, and services they provided for their customers and saw meeting their customers' needs as a role separated from their own business goals. Customer success reframes those concepts in a way that allows businesses to align their success with the success of their customers.


In other words, customer success looks at how an organization helps their customers achieve their goals and recognizes that a satisfied and successful customer is their goal as well and the two are intricately tied.
Why do businesses need to track customer success?
The short simple answer is that customer success is essential to your own organization's success. If your customer isn't achieving their goals, they're more likely to seek services elsewhere. Tracking customer success can:


Ensure a consistent

revenue stream. If your customers are successful, they'll stay. This means you can count on their MRR, month after month.


Reduce churn. Again, with their success you earn their loyalty; you build relationships. Customers who are realizing their goals with your partnership will stay with you.


Improve customer satisfaction. A customer who is achieving their goals is likely to be happier than one who is not. In turn, they'll spread the word, be open to upsell opportunities, and provide positive reviews or testimonials.


Improve your product or service. If you're focused on ensuring your customers are having the best experience and continued success utilizing what you offer, you're bound to improve what it is you offer.


Build your reputation. When your customers are successful, obviously this reflects upon you and your organization. As such, other businesses and potential customers are more inclined to do business with you. Further, the positive word of mouth and increased reputation will lower your new customer acquisition cost.



Increase employee satisfaction and

engagement. When a team wins consistently via customer success and when customers are happy, morale increases. Similarly, your employees will be willing to look for ways to improve your customer's experience thereby increasing their engagement and investment. This is the kind of corporate culture most businesses seek.


It's clear to see that there are a multitude of reasons that customer success is important and a variety of ways in which it enables the kinds of tangible and intangible benefits many organizations struggle to achieve.
KPIs to track customer success


Customer success KPIs will enable your business to track and gauge exactly how well you're meeting the goal of improving customer success (and in turn meeting several of the larger goals noted above). Therefore, knowing what to track is an essential part of developing a winning customer success strategy.


Here are some of the most important metrics to track:
Churn Rate - As mentioned above, the rate at which your customers are leaving may be a good indicator of how successful they're feeling. Happy customers stay customers, so tracking your churn rate is a great metric to use in gauging whether customer success initiatives are working.
Customer Lifetime Value (CLV) - As noted above, successful customers will sign on for additional services, purchase more products, and spend more money with your organization. Therefore, rises in CLV likely indicate customer success and satisfaction.



MRR - Much like CLV, consistent and steady MRR means satisfied customers. Similarly, a steadily increasing MRR means customer acquisitions or existing customers signing on for more services. Both can be indicative of customer success and satisfaction.
Customer support tickets - There are a variety of reasons you should be tracking this data, but if customers are regularly encountering issues, and severe enough issues that they need to contact support, it's likely they're not satisfied or missing out on success. Tracking this metric means your team can not only gauge a customer's success with your product, but also determine where the issues are and make the needed adjustments.



Net Promoter Score - If you're gauging customer satisfaction, that likely means you're amassing data from customer surveys. While you should be asking whether a customer is likely to recommend you, you should also be asking what customers like about your product or services and what they would change. This enables you to be constantly evolving to meet their needs and improve your offerings.



Customer satisfaction -

Speaking of customer surveys, this is an obvious metric you should be gauging and one that can provide a good "temperature check." However, it's vital that customer surveys go beyond the satisfaction rating and ask what earned that score. Again, that's where you get the opportunity to build on the services or products your customers love and address any friction or pain points with your service.
How BrightGauge can help you meet your own customer success goals

Now that we've established the customer success KPIs you'll want to be tracking, let's move into the tools you'll want to use for monitoring those metrics and turning them into movement.

Using dashboards to track customer success

To start, one of the most valuable aspects of a dashboard is that it enables you to gather your data in one place. Further, dashboards, like the ones offered by BrightGauge, provide a quick visual representation of that data enabling users to see, at a glance, where your team is meeting success and where they're falling short of goals.

While design elements certainly enable quick visual recognition of vital metrics, so does BrightGauge's out-of-the-box dashboard design, which doesn't require complicated coding. This means that anyone who needs to can set up a dashboard and team leads as well as individual members of a customer success team can track what they need to for whom they need to.
Customer success reporting
Customer success metrics, much like the dashboards, are amazing tools, but a hammer that sits on a shelf doesn't build; someone has to wield it; someone has to put the hammerhead to a nail. Customer success metrics are similar. Without reporting to the folks who need it, customer success metrics won't change much, not in your service teams and certainly not in your sales departments.

For that reason, ensuring that you've got a tool, like BrightGauge, that enables easy automated reporting is essential. Data is great, but if you're not leveraging that data to make improvements or convert leads to customers, then it's just data.

If you're looking for ways to turn customer success KPIs and customer success data into data-driven customer success strategies, then you need to invest in a tool that enables that. Focusing on a customer success initiative can save you acquisition costs and increase both lifetime value and MRR. The tool that enables you to track and report on those vital KPIs is an investment in your team, your customers, and your future.

Get in touch with the BrightGauge team today to talk about how our dashboard and reporting solution can help you leverage your data for big gains.
Free MSA Template
Whether you're planning your first managed services agreement, or you're ready to overhaul your existing version, we've got you covered!