BACK
Dashboards,

Best Practices

|
Read
Using Dashboards and Reports to Motivate Your Team
Susan Perez August 11, 2021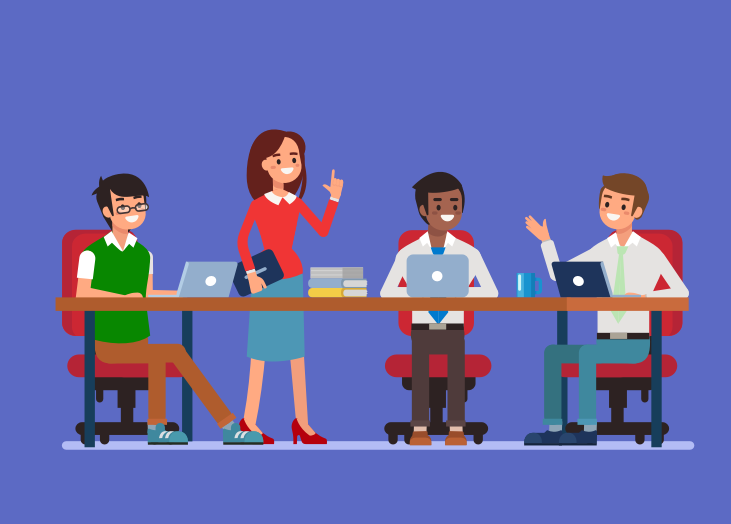 Whether it was a basketball hoop over the trash bin, a Rubik's cube, or any other myriad desktop distractions, keeping employees motivated and focused has been complicated for decades. When we add in the internet, social media, streaming video, smartphone games and more, it can be a struggle for employees and supervisors alike. With so many distractions surrounding us at all times, it's easy to lose sight of the task at hand.

Let's be honest, no one wants to be the manager who's on top of their team all day - and realistically, let's also acknowledge that mental breaks are necessary - still, there are tactics you can employ to wrangle your team's attention back to what matters most, especially when you have goals to hit!
Quick Links
Why motivation matters
Think about the last goal you set. Did you achieve it? Whether you answer yes or no isn't as important as the follow up question which is "Why did you succeed or fail?" If the goal you set was S.M.A.R.T. (specific, measurable, achievable, relevant, timely), your success or failure likely hinged on your motivation. You may have wanted it in the same way your employees want a raise, or compensation, or recognition, but if you weren't truly motivated, you wouldn't have put in the daily work needed to get things done.

That's the bottom line. That's why motivation matters in the long run. Motivation helps you achieve your goals and reap the rewards, but it does so much more. In addition to achieving goals and potentially earning additional benefits, motivated employees are:
In short, more than getting things done, motivation matters because it energizes your workplace in all the right ways. And then, when you hit your business goals and your employees realize their individual goals, it's a perpetuating cycle of success. Who doesn't want that?


Motivating remote teams


With the increase in remote work and work from home situations in a post-Covid world, concerns about productivity have waned a bit as research suggests employee productivity has remained high. Instead, work from home concerns seem to have shifted to employee engagement, motivation, and happiness. More specifically, realizing that many employees were happier working from home, the remote work shift, for many, became permanent. However, the struggle to keep employees engaged and motivated remains.


Working from home may make employees happier and may not significantly impact their productivity, but it does mean they're more likely to be challenged by distractions and other motivations. So how does your organization and leadership keep remote workers motivated? While traditional systems of motivation such as rewards and compensation are effective, data suggests that there are some non-traditional methods that we tend to overlook.


Among those methods are including your team in goal setting. On its own, it's a fantastic way to get buy-in from your employees, but there's more to it than that. It's not enough to engage them in the goals they'll strive for, but you've also got to keep them updated on progress. You can even build rewards into that progress. Celebrate hitting milestones. It's one reason reporting is beneficial not just to clients or superiors but also to your own team.
How reports can motivate
Consistently sending custom weekly reports to your team lets them keep important metrics at their fingertips reminding them of their goals and targets and will keep them all walking on the same path.


Reports are a powerful way to drive productivity and they take almost no time to set up within BrightGauge, so the payoff is big.


Not only does regular reporting help your individual team members (and teams) keep tabs on individual and overall progress, but disclosing the ins and outs of your business by sending reports helps team members feel like they're stakeholders in your company. In turn, this creates a strong sense of purpose around the work they do. The truth is, everything trickles down from the top, so what leadership preaches, your team will practice.
Further, weekly reports put transparency into practice at all times. As we've discussed before, transparency is vital to building and nurturing strong relationships.
When all employees have visibility into the hard data that drive your operations, it's empowering. They'll get clarity into where things stand: Are there areas where the business is excelling? What could use improvement? Are we meeting the numbers that'll keep us on track with our KPIs? What's our projected revenue looking like?
Having answers to these questions (and so many more) leaves no room for speculation. Just think about the power in that. Speculation often leads to gossip or rumors or feelings of uncertainty about one's performance and position… in other words, speculating is super distracting and has the potential to impact morale and motivation.


Weekly reports refocus team members and motivate them to work hard on being successful (a much more valuable use of time).
Setting up a team report
What you include in your reporting is going to vary from team to team, but you want to include metrics that are relevant to each team member's role. For that reason, each department lead should make an effort to generate reports for their own team.

For example, if you're the MSP's service team lead, your weekly report should probably focus on the previous week's ticket stats. You might include data like: service team leaderboard (which looks at how each individual's performance stacked up against the rest of the team), tickets opened, tickets closed, average response time, and customer satisfaction scores. In contrast, if you head up the sales team, weekly reports might include: opportunities won, deals closed, sales pipeline, dials made, and monthly recurring revenue.
Regardless of team, it's also a good idea to include some general company metrics that all employees could benefit from seeing, such as revenue to date, progress on goals, total number of clients, etc.
Pro tip: make sure these reports are impactful, but easy to digest. They're meant to refocus your employees, but you don't want to take too much time away from their to-do lists. They should be able to analyze these reports in just a few minutes, while still coming away with important insights.


When should I send weekly reports to my team?


We should point out that we're recommending weekly reports, but if you feel it's better to send them on a daily or monthly basis, that's cool! Trust your judgment.


In any case, we generally like sending reports at the same time on the same day because it creates a routine. If you send your reports every Monday at 8AM, your team will come to expect that report in their inbox and it can set the tone for the remainder of the week.


A lot of decision makers and business managers are apprehensive about reports because they take way too much time to generate. That's only true if you're using Excel or doing everything manually. But if you use a business intelligence tool like BrightGauge, you can create really powerful reports in just a few minutes.


Once you set up your report the first time, you can save it as a template and schedule it to automatically send out to the recipients you want on the date and time you choose.
Now that you have reports set up, it's a good idea to investigate what other business intelligence tools you can utilize to further motivate your employees. For example, using real-time dashboards, you can hold everyone accountable to KPIs on a weekly basis so nothing falls through the cracks. Not only do your customers stay happy, but you also keep your whole team on the same page.
How dashboards can motivate
As we've discussed in the past, the first step to getting your team aligned is setting goals and, as noted above, your team should help set those goals. Make sure they're S.M.A.R.T. goals as well!

Next, decide what you want to track and how you will get there (process goals). Set the cadence of your goals by establishing KPIs that need to be achieved by each team member.


Be careful about over-assigning KPIs. Combine and condense where you can so that team members don't get bogged down with tasks. Stay focused on the tasks that help you achieve larger organizational goals (outcome goals).
So how does this all help motivate? It helps in a few ways. Again, what motivates one team member may stand in stark contrast to what motivates another and so finding what works is a bit of mixed bag. For some, the connection that dashboards create by providing a visual representation of group goals is a motivator. These are folks who love to be part of a team and who connect through shared goals. For them, part of the motivation is making sure they're doing their part.


In contrast, for others, competition can be a great motivator. If you think your team (or certain members) would be motivated by being #1 on a leaderboard, then using dashboards for real-time tracking can add some much-needed fun and healthy competition to the room. Add leaderboards to your dashboards and position your screens in a central location where they are visible to everyone or simply share them at the start of every week! Your team will love seeing the numbers go from red to green and racing to the top!


And, when the dashboard shows that KPIs are being met and goals are being achieved, make sure you celebrate with your team. With the right accountability and visible markers of success through BrightGauge's dashboards, nothing will fall through the cracks.


If you build in team and individual incentives, you can do even more with this. Remember, keeping your team connected can be a vital part of the motivation process. Build team spirit through team building opportunities.
How your MSP can use dashboards and reports to motivate your team


If you're an MSP, you can't afford for anything to go overlooked. That means delivering for your clients and keeping your team motivated to do so. It should be no surprise that tracking your goals and sharing that information with your team is one of the best ways to keep everyone motivated. After all, you report to your clients, to your supervisors/leadership, why not your team?


Whether it's coaching a team or leading a business, feedback is important. Letting team members know where improvements are needed while celebrating successes gives them the drive to keep striving towards a goal. There's no better way to do it than with dashboards that provide quickly digestible data and feedback and automated reports to reinforce the feedback.


That's where we come in. BrightGauge's tools provide you with fully customizable dashboards that allow you to provide all the feedback you need to teams and individuals alike. Our reporting tools allow you to automate reports and send them to the people who need them when they need them, whether that's weekly or monthly.


If you're ready to talk about how our solution can help you keep your team motivated, whether they're remote or not, and help your MSP reach its goals (and more!), then get in touch with our team today!
Free MSA Template
Whether you're planning your first managed services agreement, or you're ready to overhaul your existing version, we've got you covered!