BACK
Best Practices

|
Read
Top NOC/Operations Team KPIs
Susan Perez July 24, 2018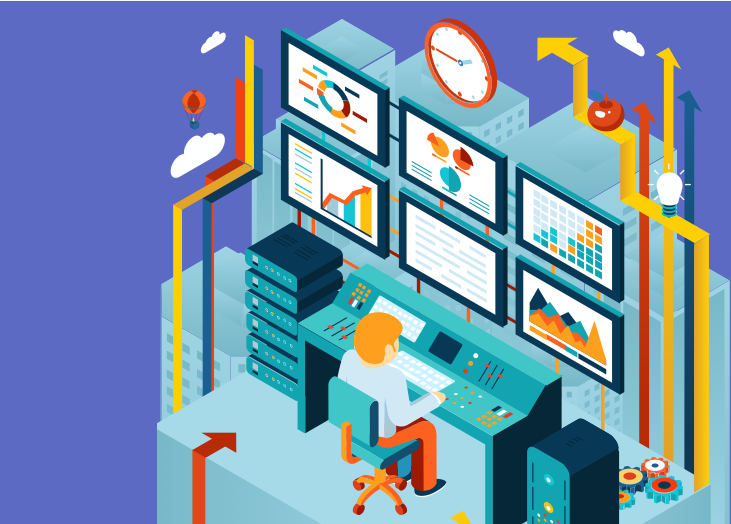 In any organization, it's hard - impossible even - to prioritize departments because each one pulls its weight in different and important ways. Knowing this, when setting overall company key performance indicators (KPIs) you should take into account what each individual department brings to the table.
Your Sales Team is going to contribute to success in different ways than your Project Team, Service Team, or Finance Team.
Let's not forget about your NOC/Operations Team KPIs. For this critical team, we recommend including 3 specific KPIs that you might track on NOC dashboards.
How we choose NOC dashboards to monitor
Prior to building BrightGauge, our founders Brian and Eric Dosal owned an MSP, so they have been ingrained in the industry for quite some time. They have first-hand experience of what it takes to run an operations center successfully. This paired with insight from industry benchmarks has helped us prioritize goals.
We want to make note that these are simply our recommendations based on our experience, but you may have different metrics that matter to you, which is okay! Every business leader has to run their business on their own terms, but we hope our advice can provide a bit of guidance.
Our top 3 NOC/Operations Team KPIs
NOC (network operations center) technicians are the ones getting their hands dirty, so to speak, when it comes to your technical tasks and issues, so their contributions are going to be pretty significant to company performance. They are monitoring networks and working hard to ensure that everything runs as it should.
The results of an Operations Team's actions, whether good or bad, will have an impact on your reputation, so it's important to give this team careful attention. Monitoring their actions through NOC dashboards will help you stay on a path towards success.
Critical Alerts/Issues Opened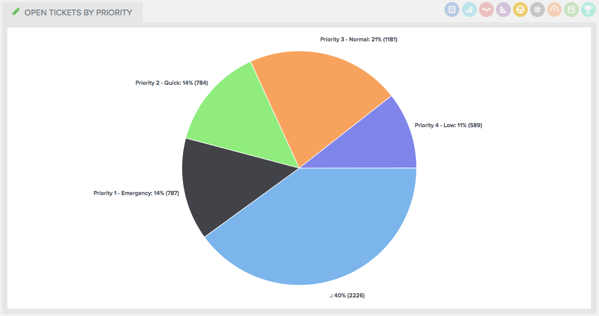 Handling incoming tickets and escalation in an organized and effective manner takes a lot of time and effort, but it's absolutely necessary. Not only will monitoring critical alerts help you be proactive in resolving issues before they become disasters, but it also shows that you're intent on meeting SLAs and providing your clients with great service.
Additionally, tracking your issues opened will allow you to identify trends over time - are you noticing that the same clients are opening tickets time and time again? Do you need to charge them more? Are there recurring issues that can be prevented?
Taking note of patterns by use of NOC dashboards will make you a stronger and more productive agency over time.
Backups Missed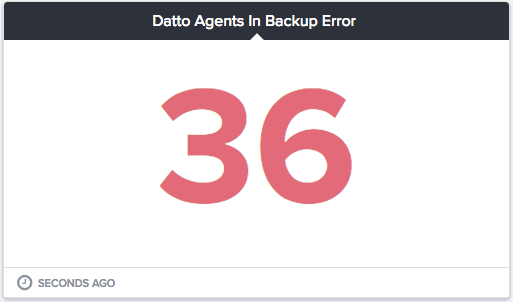 All service technicians understand that regular backups help networks run optimally. Backups are a daily task in a NOC, so keeping track of them is a necessity and most likely a part of your SLA.
When a backup is missed, internal teams need to understand why and clients must also be notified. NOC reports keep things transparent, keep you accountable, and allow for trustworthy partnerships.
Documentation Engagement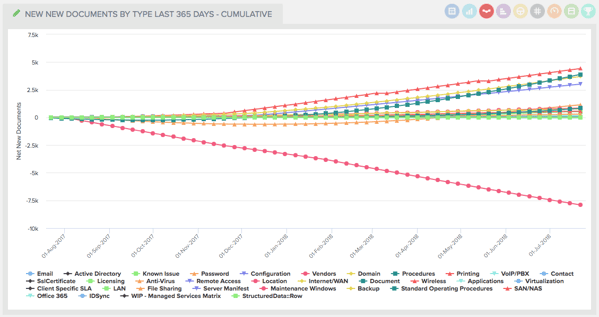 Why is documentation so critical? Here's one example. You likely have more than one NOC technician employed and it's possible that your techs work on different client sites. What happens if a client has an urgent issue and their assigned tech is on vacation? Ideally, a documentation trail outlining a history of the work that's been done for that client will guide any other tech in solving the issue.
There are bound to be countless other important documents that are specific to a NOC and keeping them organized and accessible ensures that things run smoothly.
Tracking how often your team members are documenting (per day or per week) holds them accountable and encourages a really productive, transparent department. It also helps you see how well (or not) you're adhering to client SLAs, so that you can take corrective action if necessary.
How BrightGauge helps you track these metrics
BrightGauge pulls data in from different business solution tools you're most likely using, like ConnectWise Manage, Datto, Backup Radar, Webroot, IT Glue, and more. Whether you are using an RMM, PSA, or a financial tool, BrightGauge compiles all of your important metrics into one operations dashboard, so you can keep an eye on the data that matters most to you.
Since a lot of work in the IT industry is time-sensitive, we built BrightGauge with the intention of allowing you to get going on day one. For each of our integrations, we determine the top metrics to track and pre-build gauges, dashboards, and reports based on that information, which means that you'll have access to your data as soon as you open an account.
As a business leader, there's so much you have to monitor and take into account on a daily basis, and our goal for BrightGauge is that it helps you manage your daily tasks more easily.
Aside from displaying your data in one NOC dashboard, BrightGauge gives you the power to create custom, interactive reports you can automatically share with your clients (transparency for the win!), and helps you foster an accountable and motivated team through goal-setting and tracking.
You've got a lot of KPIs to track and BrightGauge can help you get a handle on that. If you want to learn more about the importance of KPIs, watch our free webinar 'Establishing and Managing Your Key Performance Indicators'.
Free MSA Template
Whether you're planning your first managed services agreement, or you're ready to overhaul your existing version, we've got you covered!