BACK
Dashboards,

Product

|
Read
Technician Dashboards: Service Efficiency Like Never Before
Eric Dosal August 4, 2016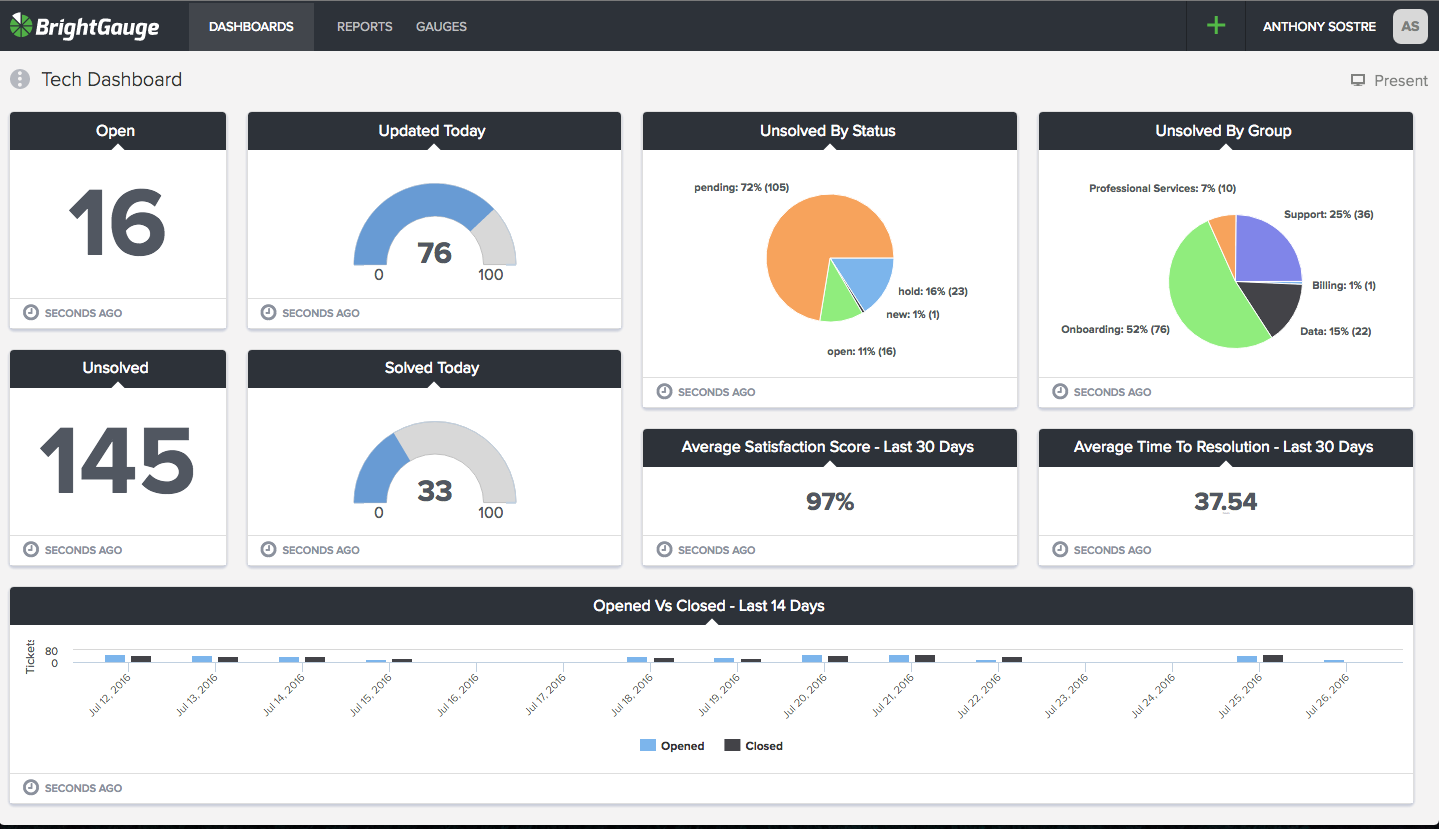 Due to the competitive nature of the IT industry, MSPs are constantly forced to search for more efficient ways to do business. Now, there's another way to increase efficiency and get ahead of your competitors: Technician Dashboards.
What are Technician Dashboards?
Technician Dashboards display the same metrics that a service manager would track, but are filtered to only include the data from a specific technician. The metrics on these dashboards could include:
Open Tickets
Unsolved Tickets
Updated Tickets
Solved Tickets
Unsolved Tickets by Status
Unsolved Tickets by Group
Average Satisfaction Score
Average Time to Resolution
Open vs Closed (Last 14 Days)

Each data source is different though, so you may be tracking different metrics based on what's available to you.
Benefits of Technician Dashboards
Most MSPs don't realize how important dashboards are, and many just set up a leaderboard and call it done. Many used to think that it's too much work to set up a dashboard for each technician but with BrightGauge's "Save Filter" dashboard feature (discussed more below) you can set up technician dashboards in seconds.

Technician Dashboards don't replace the need for leaderboards, instead they serve as a great compliment. Unlike a leaderboard, Technician Dashboards don't create a sense of competition. Instead they do the following:
Focus technicians on the metrics that management wants to improve, helping to increase the effectiveness of the manager's efforts.
Highlight areas where a technician could improve or focus.
Help save time by showing technicians which tickets need to be addressed.
Make meetings run smoother as technicians will be on the same page as management.
How to Set Up Technician Dashboards with BrightGauge
Using our brand new "Save Filter" feature you can now create a template dashboard for your technicians and invite them to log in and only see their data.

To find your new Technician Dashboard please log into your BrightGauge Account and search for the "Technician Template" Dashboard then follow these instructions to set up the filters for each of your Technicians and these instructions to invite your Technicians as Viewers (which are free at BrightGauge).
Free MSA Template
Whether you're planning your first managed services agreement, or you're ready to overhaul your existing version, we've got you covered!