BACK
Service

|
Read
How to Sell Managed Services: 5 Steps to Improve Your Results
Amanda McCluney August 8, 2017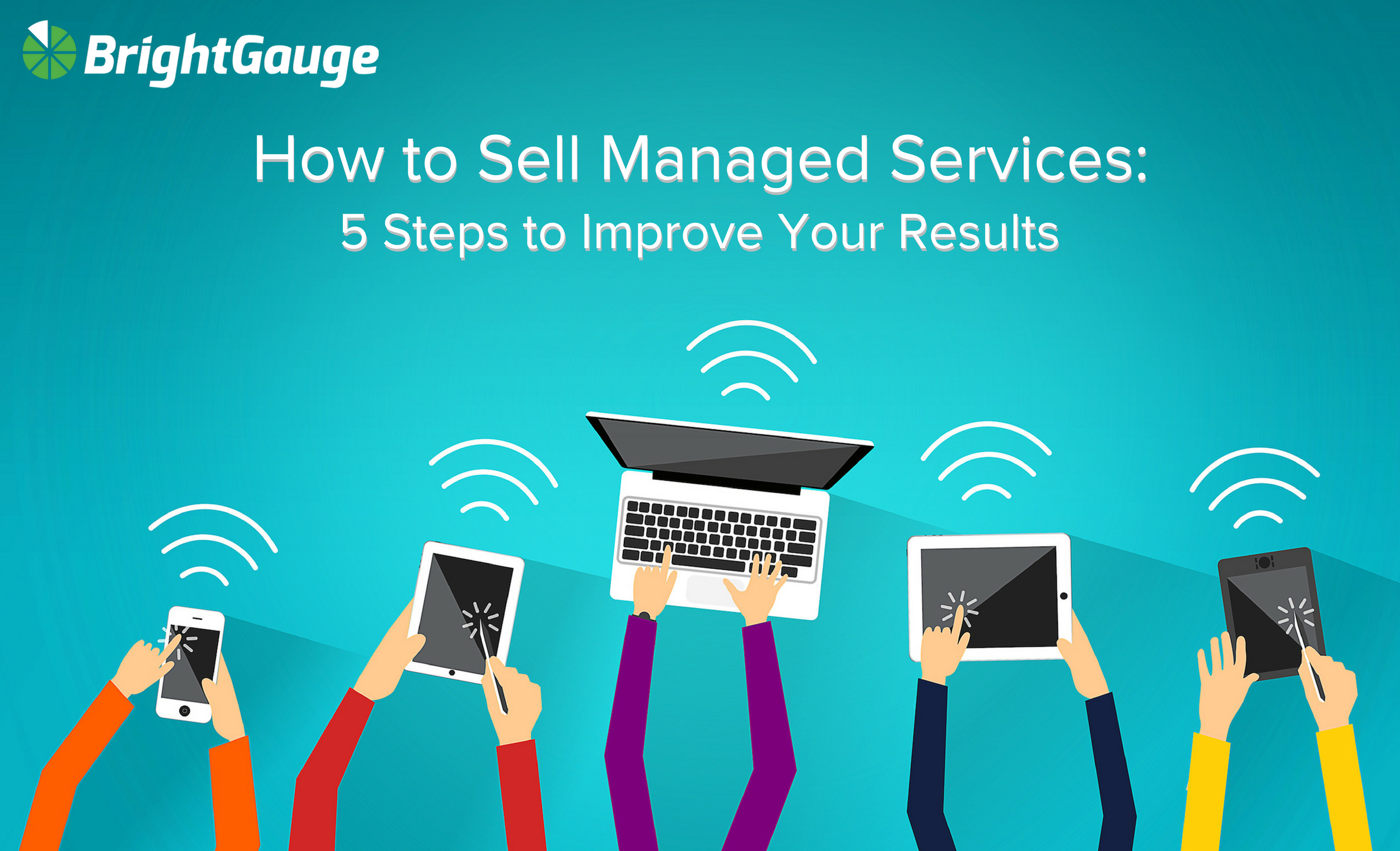 We learned a lot about how to sell managed services during the 5-year period that we grew our Miami-based MSP, Compuquip, from $800K to $8.8MM in MRR. Although we ultimately sold the business, the lessons we learned along the way are still effective, and the topic continues to be one of the most popular that we answer for our community.
The first thing we like to point out is that selling managed services requires a unique approach because you aren't just offering a one-time service, but rather a long-term partnership. So before diving in, take note that this kind of sales process will be longer and more detailed because it's critical to get everything right.
Now, let's start with the end goal in mind: you want to be your client's business partner, not just a vendor. Did you think the goal was to rack up another sale? You've got to think beyond that! The difference is that being a business partner is an alliance... they trust you to provide answers to questions they didn't even know they had, to offer new operational resources and solutions, and deliver results, to name just a few. Business partners provide value. Meanwhile, a vendor is a nameless, faceless entity that sells a product or a service. Simply put, they are easy come, easy go… vendors can be kicked to the curb without a second thought.
Ensuring that you're selling your company as a partner begins the moment you start to engage with a potential new client. In your half of the partnership as MSP, you must provide the talent and processes (and in some cases the equipment too) to offer a complete service to your clients. The client also has to make a commitment, in trusting you to effectively manage their systems, on top of the cost of the service itself. Both parties are taking on some risk in the beginning, and if the partnership doesn't work out, then it's expensive and time-consuming (for both sides) to sever the managed services agreement. That's why it's critical that you get it right!
Here are 5 steps to help you refine and improve your sales process...
1. Fully Define Your Service Scope
One critical aspect of negotiating a managed services agreement is ensuring that both sides have a firm understanding of the service scope. A well-defined scope helps avoid future disputes where the client feels as if the agreed upon service hasn't been delivered. Your contract should outline each individual service separately and clearly set expectations.
Here's a look at part of the scope that we would list in each one of our managed services agreements at Compuquip (there were also sections to cover the scope of Network Security, Endpoint Management, and Strategic Planning):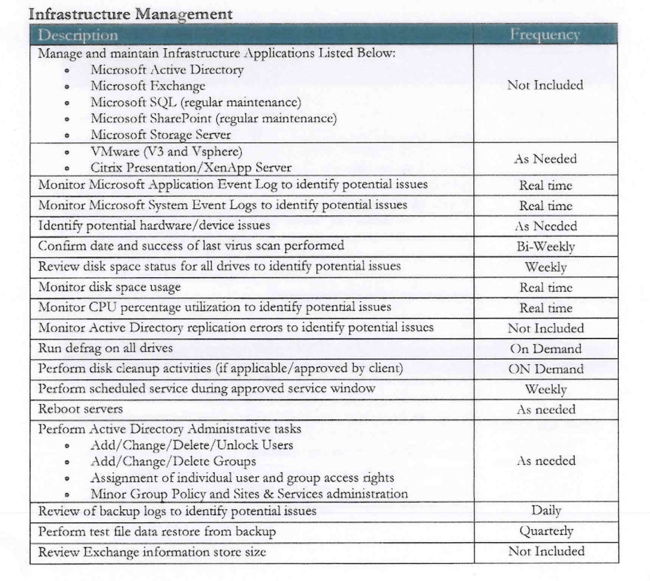 You should also take the time to conduct a full evaluation of the network and IT services of the prospect before providing a proposal. It's impossible to know what to propose without first understanding the systems that they already have in place. The less amending that must be done later, the better.
2. Commitment Must Come From the Top Down
When negotiating a managed service deal, it's critical to convey your organization's full commitment to the client. You can accomplish this by being as thorough as possible. Work to truly understand their company, industry, and business processes. If you're a Sales leader or other role, it is also a good idea to have an executive (or owner) heavily involved in the negotiation and implementation processes. Regardless of how adept your staff is, having an executive involved gives the impression of a full commitment from your company.
3. Know Your Value and Price Accordingly
A common mistake made by young MSPs is a willingness to negotiate pricing. If you're tempted to lower your price to bring in initial clients, you also have to remember that a price drop can negatively impact their perceived value of the services you offer. Put another way, value-based pricing puts you in a position to charge what your services are worth to the client, so it's imperative that you nail the value component of the partnership right off the bat.
So rather than throwing out a "deal" or a price cut, instead focus on educating the prospect about the advantages that your service will bring to the table - and try to connect those advantages to real-world business cases when possible, because that's the point where value becomes obvious to them. Allowing them to see that real-world data ensures clients never feel like they are being overcharged. Plus, understanding your value and charging what you're worth can help to facilitate positive long-term partnerships with clients. (Learn more here about how to avoid competing solely on price.)
4. Show a History of Your Success
When pitching a new prospect, one of the best ways to build trust is to show evidence of a long track record in the services that you are offering. Do that by showing them hard data that details how you've helped clients become more profitable.
As a new company, you might not have a lot of data on hand to back that you are the best choice to handle their IT systems. If this sounds like your scenario, then consider these options to help prospects vet your company:
Share personal achievements and experience. If you have experience working within the industry, that experience is relevant to your prospects. Share your experience with them to ease concerns and show capability in the services being discussed.
Provide testimonials and referrals from previous clients. Being able to point to previous clients who have had positive outcomes from your services is a great way to show experience and ease concerns. You can even go a step further, and set up a conversation between a new prospect and an old client to discuss the results from your services.
Bring them on a tour of your office. Bringing potential clients in to see your office shows them that you have your team, your procedures, and your business under control. With dashboards on heads-up displays throughout the office, they can see that your SLAs are always top of mind, and they can observe how your team works together to resolve tickets for your existing customer base.
Reliable IT services are a crucial part of any modern business, so it makes sense that any company considering your business will want to confirm your expertise before agreeing to a long-term deal. If you're a new MSP, that could mean you have to put in a bit of extra effort to help ease concerns before working to secure any new, high-value clients.
5. Keep Your Contract Simple
This one we can't stress enough! Just because a contract is legally binding doesn't mean that it needs to be filled with confusing jargon. Ensure that every service is spelled out as a line-item, detailing the exact scope of the service as well as the monthly charge. Additionally, be sure to include upsells, upgrades, and additional consulting fees directly in the contract to avoid future disputes.
Bonus: Master Your Managed Services Agreement
Your agreement is one of the most important parts of your partnership with each client. It summarizes the responsibilities of both parties, and outlines the services you'll provide as MSP. But did you also know that your contract can hold the key to your business reaching its full growth potential?
Download your copy of the managed services agreement that worked like a charm for us:
Free MSA Template
Whether you're planning your first managed services agreement, or you're ready to overhaul your existing version, we've got you covered!